If you are heading to Belgium this summer, don't miss the Bike to the Future exhibition at the world renowned Design Museum Gent. The exhbition is a joint effort of Design museum Gent and the IMF Foundation, and seeks to offer a glimpse in to the future of the bike.
Cutting edge design combines with inventive technology, and so we were really proud when Exhibition Curator, Elisabetta Pisu, asked Hiplok to be part of the showcase alongside the likes of Philippe Starck and bikes from Eddy Merckx.
We asked Elisabetta to tell us more…
Give us a brief overview of the exhibition?
The exhibition explores the future of cycling and brings together some of the most imaginative designs in existence today. We have Philippe Starck's electric bike "M.A.S.S", the 'Bamboo' bike by Ross Lovegrove and lots of other prototypes and experimental studies that reimagine how bikes work, what they are made of and what they look like. It's a snapshot of ideas and designs, and the craftsmanship evident in the exhibits is pretty impressive.
Why have you chosen Gent as the location?
Belgium, along with some other countries, is at the forefront in terms of cycling culture in Europe. This is really evident in places like Gent, where the population has embraced the bicycle as the most practical and fastest mode of daily transport. So the Design Museum Gent was a perfect fit to host the exhibition.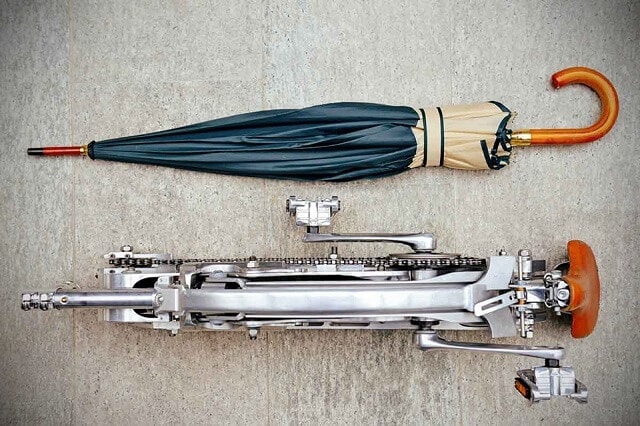 What are some of the highlights we can expect (apart from Hiplok!)?
We brought together some really futuristic designs: the "Sada Bike", created by the Italian engineer Gianluca Sada, folds down to the height of an umbrella; "nCycle", an innovative e-bike by Hussain Almossawi and Marin Myftiu, is equipped with amazing safety functions like adjustable anti theft handlebars, integrated LED lighting and more; "Ele" is a solar hybrid bike by Iranian designer Mojtaba Raeisi, it has solar panels built into the wheels.
And we have a great collection of some of the most unusual and imaginative accessories people around the world have thought of, like the magnetic bicycle light "iFlash One" designed by the Danish studio Kibisi, or the "Hövding" airbag helmets. And there is a a really interesting section in the exhibition dedicated to the more general topic of mobility, with infrastructure projects realized by renowned architects (Foster+Partners, Dissing+Weitling, NEXT Architects, etc.)
Hiplok also featured at Cycle Revolution at The Design Museum in London – why do you think there is an increased interest in cycling and cycle design?
Cycling is the most efficient, friendly and beneficial form of transport and has become a symbol for progress. It stands for an eco-friendly future and transformed cities. Bicycle design reflects this thinking. And these brilliant ideas and ingenious prototypes, this reimagined form and technology, aren't abstract or theoretical. People can actually get and use this stuff. It's fun, it's advanced technology, it's positive and it's a statement.
What do you think will be the biggest trends in cycling in the next decade?
There will definitely be great interest in ways and solutions to combine different modes of transport with the bike, and electric bicycles are going to continue gaining popularity.
And what bike will you be cycling to the exhibition on?
Perhaps the "Fliz" bike prototype, created by Tom Hambrock and Yuri Spetter. It doesn't have any pedals, not even a normal saddle.