Sold Secure Bike locks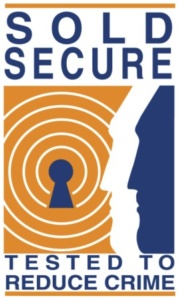 Hiplok work closely with experts in the field and security accreditation testing houses around the world such as Sold Secure, to help ensure Hiplok bike lock designs are as secure as possible for their purpose.
Walk in to the lock section of any bike shop and you'll be bombarded with different manufacturers rating systems and terms for defining the "toughness" (or not!) of each lock. This can be confusing for any consumer. Whilst we offer our own security ratings, we also use the Sold Secure rating on our locks to show you how tough they are.
Luckily in the UK, Sold Secure is an independent accreditation body that tests and benchmarks security products. Sold Secure provides professional advice regarding the effectiveness of locks to commercial customers, insurance companies, law enforcement and of course, the public.
Sold Secure Gold

Gold sold secure bike locks provide resistance against the top level tool list (each tool being used multiple times) and including items such as large bolt croppers and TCT Hacksaw for a minimum of 5 minutes.
Sold Secure Silver

Provides resistance against an extensive tool list (each tool being used multiple times) and including items such as medium bolt croppers and club hammer for a minimum of 3 minutes.
Sold Secure Bronze

Provides resistance against a basic tool list (only using one selected tool in the attack) and including items such as a junior hacksaw for a minimum of 1 minute.
Hiplok Sold Secure Bike Locks
Before launching our bike chain locks and D locks, we take them to Sold Secure's Northamptonshire testing house where they are put through their paces with a series of tests that recreate the environment and resources used by bike thieves in the real world. If a lock has a Sold Secure rating, it has provided a good level of resistance against the following:
Resistance to picking other manipulation techniques
Resistance to drilling
Torque Attack
Pull Attack
Wedge Attack
Cutting
Leverage Attack
Shim Attack
Bolt Cropper
Freezing
The outcome of the tests also result in a bike locks being awarded Gold, Silver, Bronze (or if not successful, they are "unrated"). This tiered-system is an extremely useful guide for cyclists when choosing a lock, particularly as it is consistent and independent of different brands.
At Hiplok, we're proud to say that all of our chain locks, D locks and home storage products have been awarded a Sold Secure rating and we offer different locks at the different levels depending on riders' needs and budgets.

Not only are our chain locks, D locks and home storage products Sold Secure rated, but they are also accredited by other international security houses such as, VAREFAKTA, SBSC and ART. As well as external testing, we also rigorously test our products in house, throughout the design and manufacturing process as well as ongoing in-use testing.