As the days are getting longer and a little warmer, you may be tempted to beat the rat race and try commuting to work by bike. There are lots of benefits to traveling on two wheels – it saves you money on fuel, it's better for the environment, plus it's great for your physical and mental health, so you'll arrive to work refreshed and ready to start the day!
So, if you're ready to give it a go, check out our tips to get started.
Eyes and Ears!
First and foremost, make sure you're safe. If you're commuting to work, you're likely to be travelling during rush hour when there is inevitably more traffic on the roads. We go by the mantra 'eyes and ears', i.e. now is not the time to be cycling with headphones in. You need to have your wits about you and be aware of vehicles you are passing and those that are overtaking you.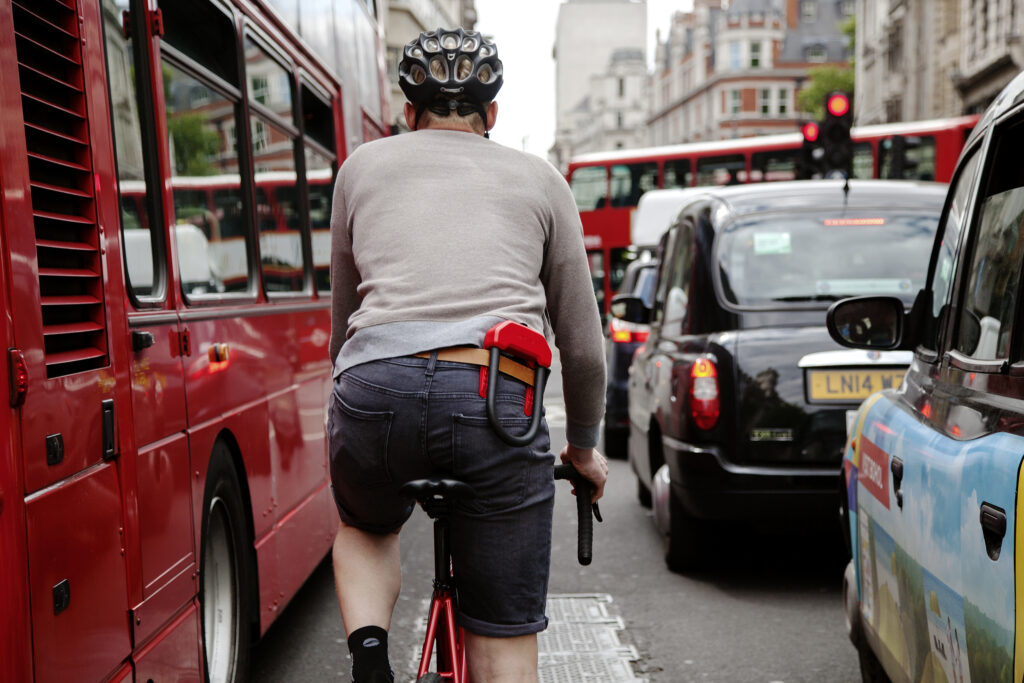 Consider your cycling position on the road. Basically, you don't want to cycle in the gutter. Instead, position yourself about a metre away from the curb. This will ensure you're more visible to other road users and cars and lorries are less likely to try and overtake you when it's not quite safe to do so.
If you're passing a junction, check for cars approaching or pulling out, and cars that might be looking to turn into the junction from behind you.
When passing a parked car, check over your shoulder before you move out into the road, so you aren't moving into oncoming traffic. Also, leave about a metre between you and the car, just in case someone opens the car door.
Finally, wear a helmet. If the worst should happen you need to make sure your protect your head.
Get organised
When you first get started with your commute, you'll want to take out as much pre-ride faff before you head out in the morning.
Firstly, get your clothes and kit ready the night before. You don't have to wear full lycra if that's not your bag, but depending on how far you're going to be travelling, you might not want to commute by bike in your work clothes (#sweatybetty). So get your kit ready to throw on when you get up, so you're not rifling through drawers in the morning to find some socks.
Similarly, decide whether you're going to keep some work clothes at the office or carry them with you on your commute in. If you're taking them with you, get them packed and ready the night before.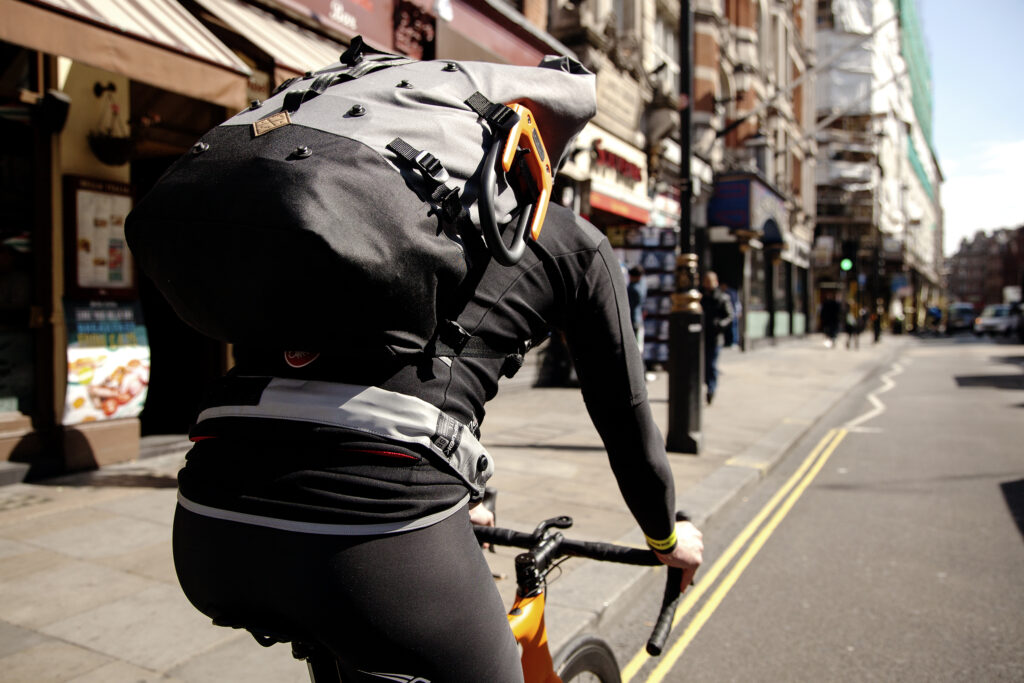 You'll also need to consider how you plan to carry your 'stuff'. The most important thing is to be comfortable. When you're cycling amongst traffic, you want to be able to concentrate on the road and not on your bag that is slipping underneath your arm…Make sure you get a comfortable and well-fitted cycling backpack or perhaps fit some panniers to the back of your bike, if you'd rather not carry anything on your back. Whatever you choose, something waterproof is always a good idea.  
Check your bike
Don't forget to check your bike. Regular bike maintenance, will keep it running smoothly and limit any mechanicals that you might suffer on the road. That's not to say you have to be a qualified bike mechanic, but we'd suggest giving your bike and the components a good clean once a week and check your tyre pressure and brake pads before each ride.
Know your route
If at all possible, try to plan your commute along dedicated bike trails and cycle lanes. Failing that, try to stay clear of major roads if you can and plan a route along quieter roads and trails. Not only will it be safer, but it will take the stress out of your commute and make it more enjoyable.
Once you've got a route in mind, we'd suggest doing a dummy run so you know exactly where you're going and what to expect when you're actually heading into work.
Lock your bike
Once you get to work, you will want to make sure your steed is safe while you leave it unattended for the day. Depending on your workplace you may have some locking facilities on site. But if not, you'll want to take a bicycle lock with you, or keep one at work.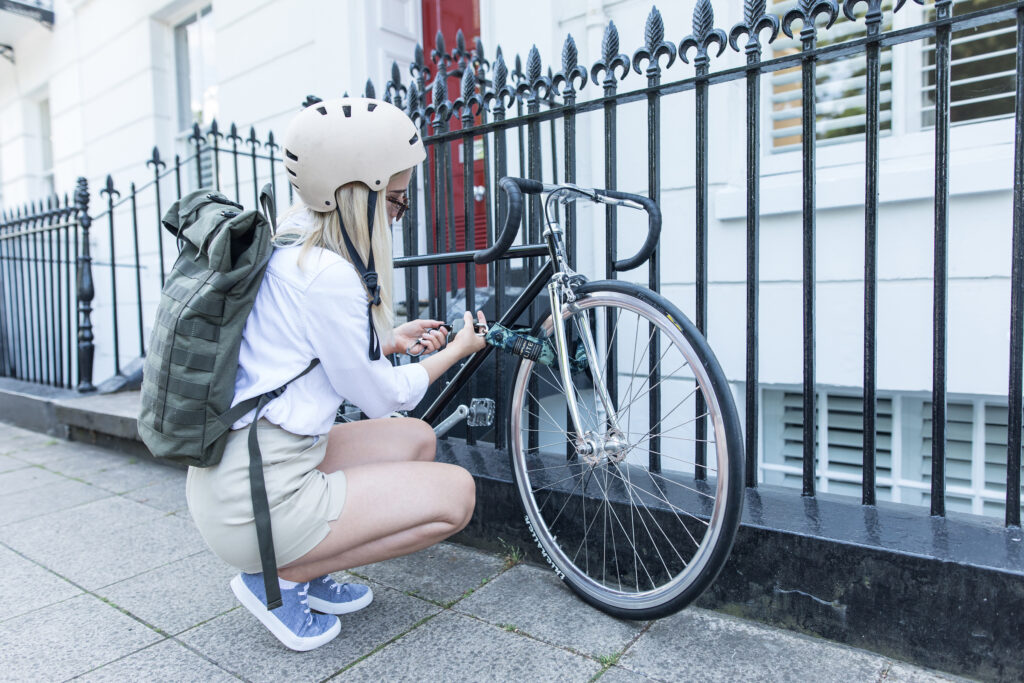 The type of lock you'll need will depend on where you are locking your bike up. If you're able to keep it in the office or in an office car park, a lightweight lock such as Z LOK may be suitable to keep any opportunist thieves at bay. Alternatively, a Hiplok LITE will offer an extra level of security if you have to leave it in a more public place.
If you work in a city centre and you need to leave your bike outside of your workplace, you'll want to use something a little more secure, such as our Hiplok GOLD chain lock or the Sold Secure Diamond rated Hiplok DX. To find the right lock for you, take a look at our 'Find your Lock' page.
You can also check out our Security Tips page for guidance on how to securely lock up your bike.