The basic principles for locking any bike are to choose the best lock for the situation and follow best locking practice (check out Hiplok Security Tips). However, when it comes to E-bikes, there are some key (pardon the pun) locking techniques and factors to bear in mind. Consider our Top Tips to lock your electric bike:
GOLD Rated Security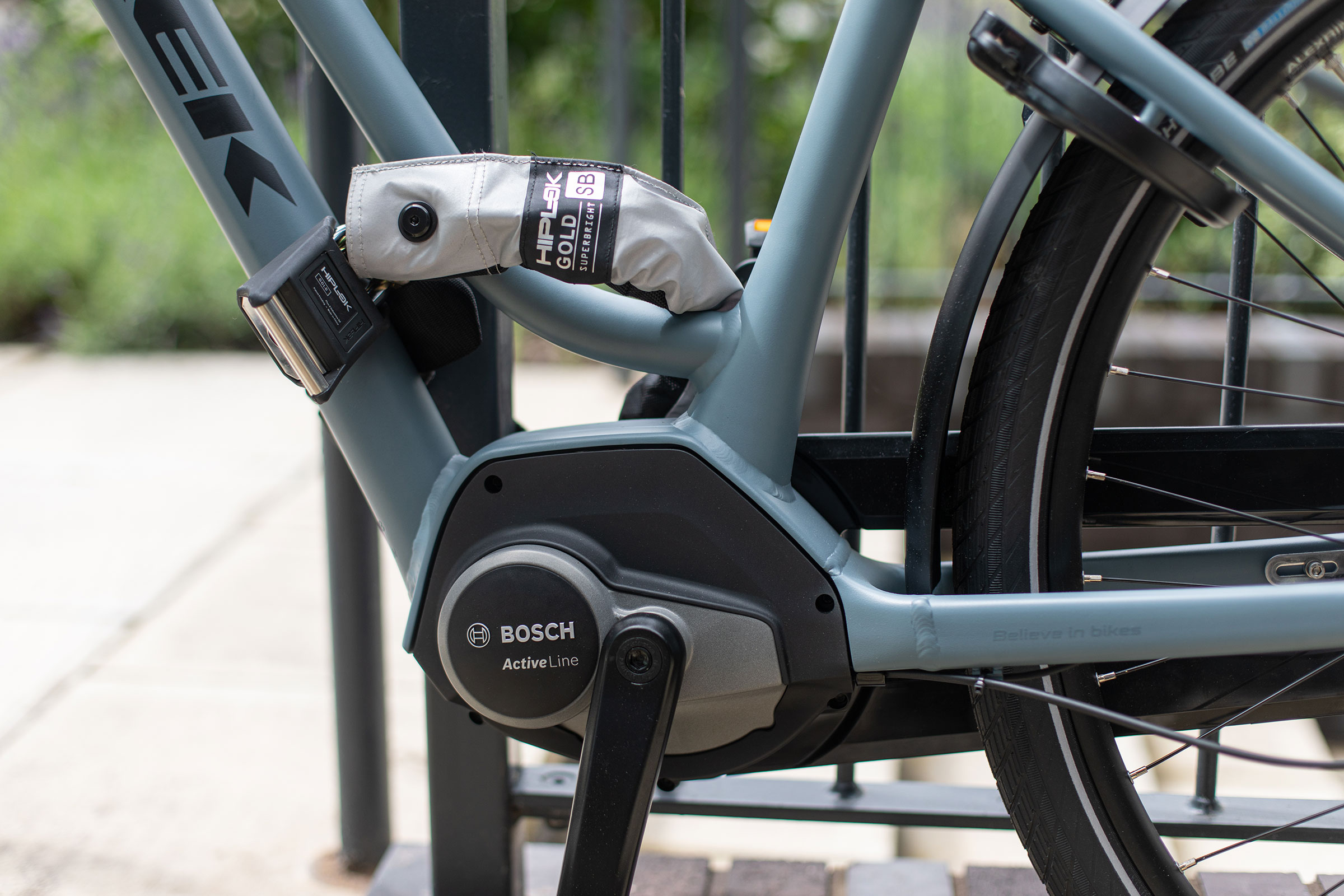 It goes without saying that electric bikes are expensive. If you've just shelled out a couple of thousand for your new mode of transport, you want to ensure it remains that way – yours. Choose the most secure lock possible and don't go on looks alone as not all steel chains or U-locks are created equal – the strength of the lock can come down to the quality of the steel used. A good guide is to look for a lock which has a maximum security rating such as the GOLD Sold Secure badge in the UK. This means it has been tested to withstand attack with the most powerful of tools for a significant amount of time. This is often also important for insurance as you may find your insurers will only cover bikes of a certain value if they are locked with a Gold rated lock.
Locking Circumference
The shape of E-bikes with their wider down tube means you will require a lock with a larger locking circumference than with standard bikes to comfortably go through wheel, frame and whatever you are locking to. Chain locks are ideal as they will offer this larger circumference without compromising on the security. Good examples include the Hiplok GOLD and the E-DX lock, which is specifically designed with E-bikes in mind. The Hiplok GOLD is wearable and easy to take with you while the noose ends on the E-DX's maximum security chain mean the lock can be looped back on itself providing up extra locking length. This has the added benefit of allowing you to safely secure your E-bike to a rack, even if there are a number of other bikes in its way.
Lock Practicality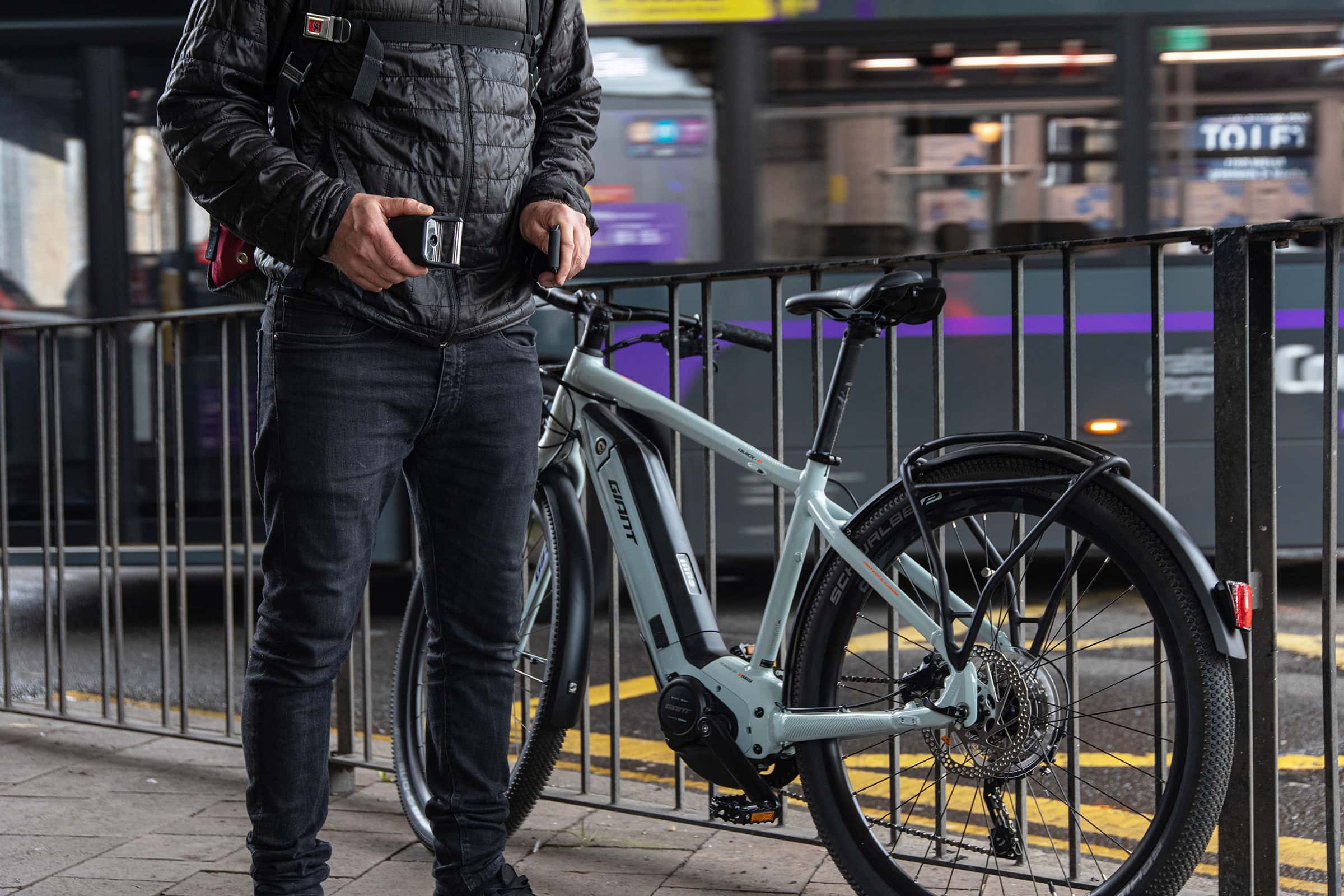 It's all very well choosing the strongest lock but not much use if it's strength and hence weight means it's impossible to carry. A good option is a wearable chain lock such as the Hiplok GOLD which can be worn while riding without being locked to you making it super easy to take with you even without a bag. Bike-mounted locks can be an option but check the security standard as many of the foldable locks do not meet the GOLD standard. The E-DX comes with a handy Z LOK security tie which can be used to compact the lock and secure it to the bike.
Securing batteries and accessories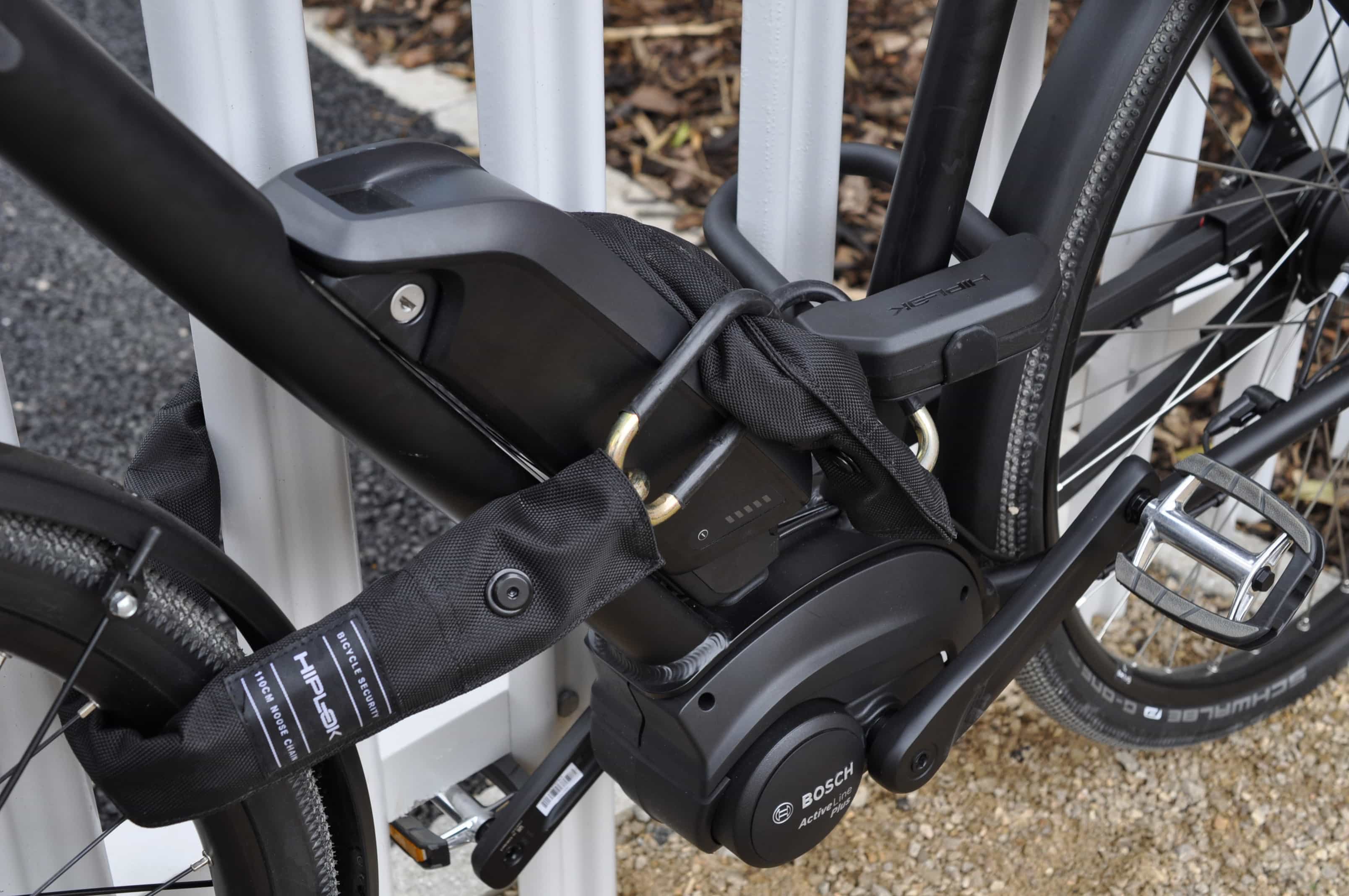 If possible, it's best to take easily removable batteries and accessories, such as lights and monitors with you. However, this isn't always practical so where possible secure them. A simple lightweight security tie such as a Z LOK comes in handy for protection of accessories from the opportunist thief at shorter pit stops. You will also find that some e-bikes come with pre-installed battery locks so don't forget to lock these upon leaving your bike.
Secure Storage at Home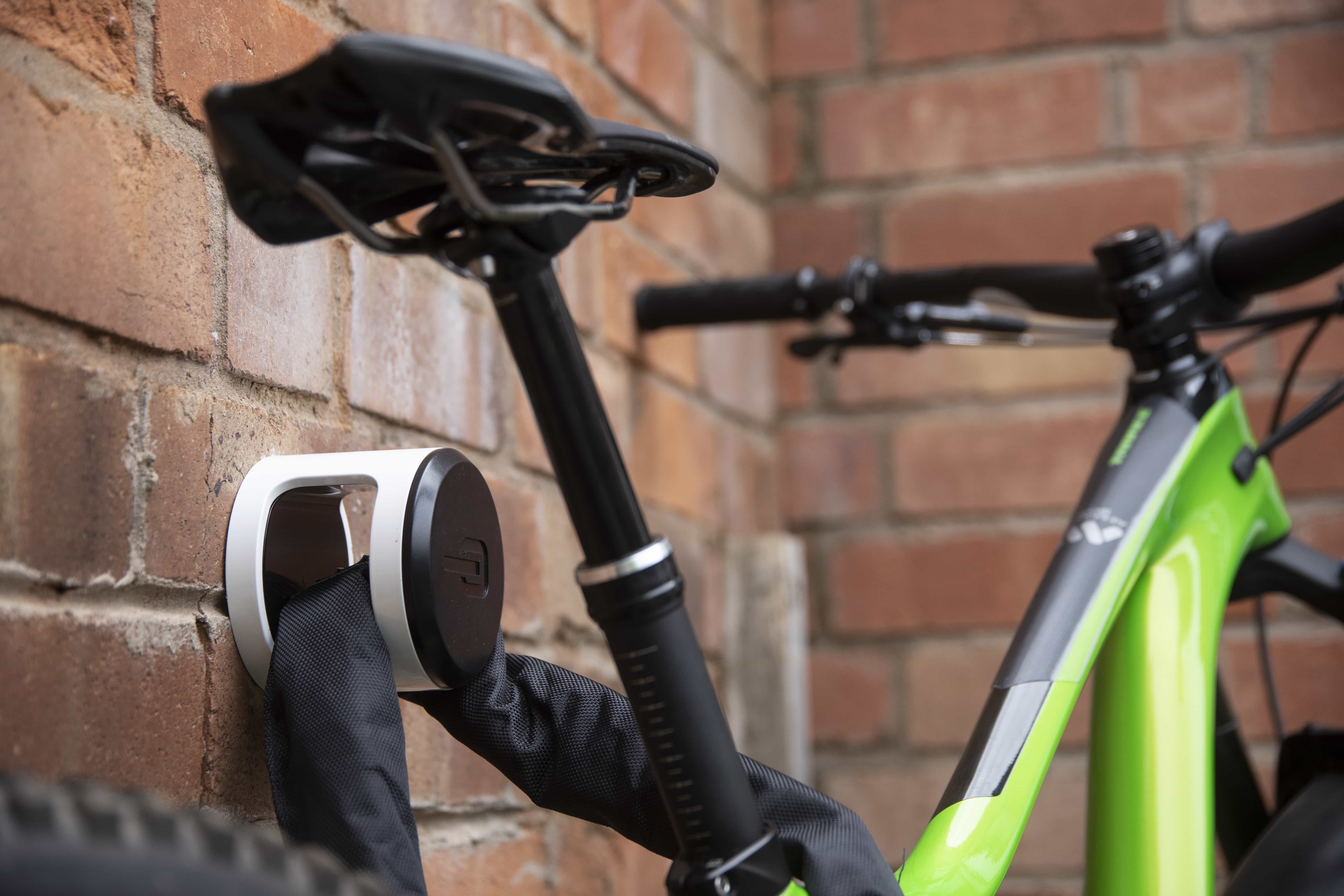 In the UK last year, approximately two thirds of bikes reported stolen were through thefts from homes or associated outbuildings and sheds. Just because your E-bike is in your garage, doesn't mean it is safe from thieves. Professional thieves target garages and sheds and often choose times when they are least likely to be disturbed meaning they have more time to operate. Therefore, using the most secure locks possible on your bikes even in a locked garage will slow them down and even prevent them trying. A great storage option for multiple bikes is the Hiplok ANKR maximum security ground and wall anchor combined with a Gold rated Hiplok HOMIE. The ANKR has received the Gold Sold Secure rating for bicycles and motorbikes which means it is ideal for an expensive E-bike.
Register and Insure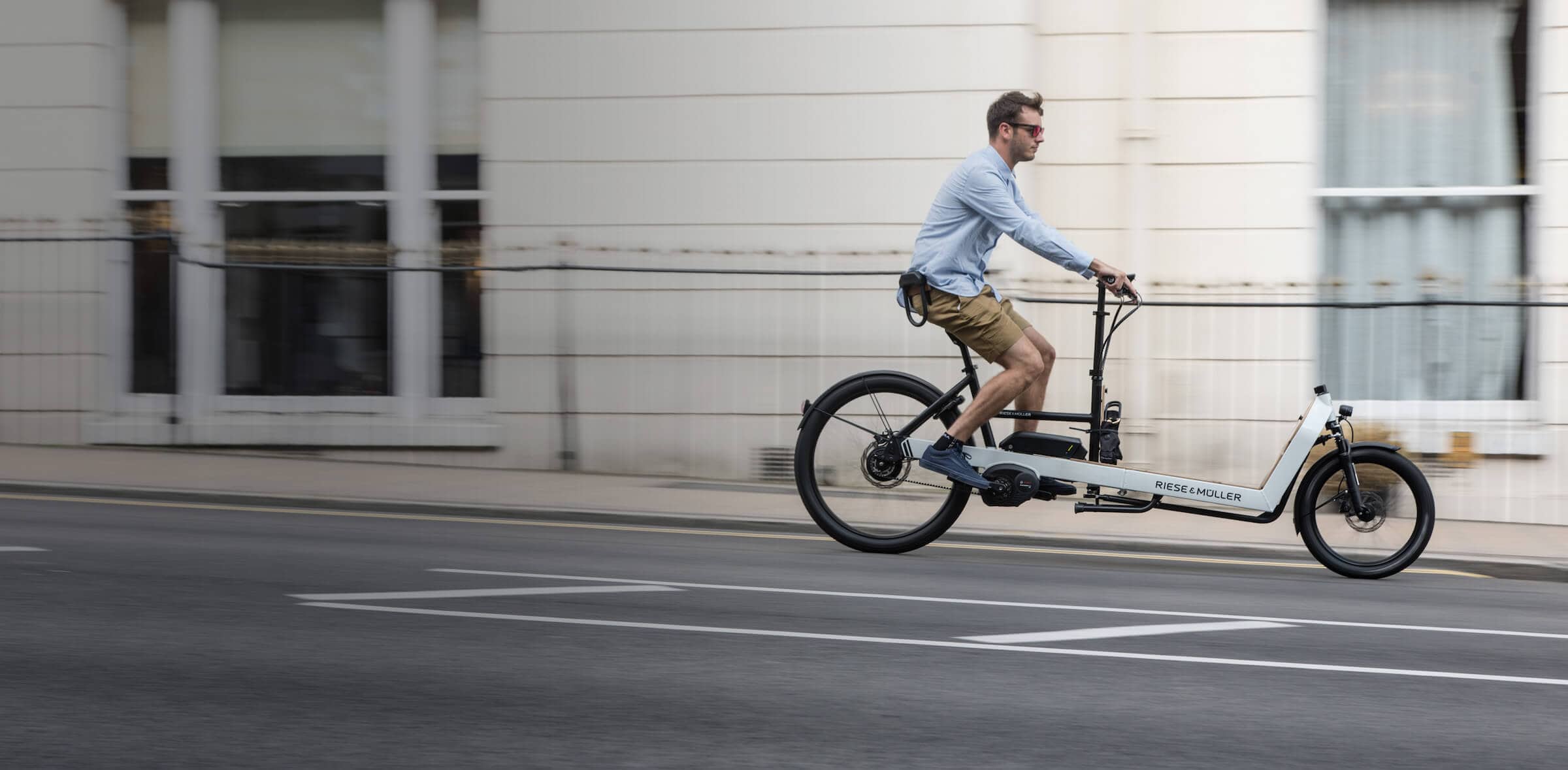 Nobody wants to think about the worst but give registration and insurance some thought when you first buy an e-bike and you'll have total peace of mind. E-bikes will have a serial number on the frame and usually on the battery. Make a note of these for easy identification in the future should the worst happen and your bike is stolen. Websites such as bikeregister.com allow you to store these numbers within a national database which links directly to security services. Look for a good e-bike insurance policy which will cover your bike and its accessories in the event of theft. Bike specific insurers such as Pedalsure offer some good solutions and will even help cover your journey home should theft of your bike occur when out riding.
Check out the full range of Hiplok Chain Locks. Check out Hiplok for your ride >>