A couple of weeks ago, four members of the Hiplok team took on RideLondon in honour of our charity, British Blind Sport. Ash, our Planning and Operations Manager, explains how the day went…
Hitting the Snooze Button
With an 8:25 am start time and the partial closure of roads in and around London, it was always going to be an early start! So at 4am, we wrangled 4 sleepy-heads, to make the journey south.
The RideLondon challenge consists of three different cycling events (a 30, 60 and 100 mile ride) on closed roads around London and Essex. With a wide-ranging level of experience on the bike, we decided to enter the 30-mile event.
Co-founder John was practically born in the saddle and is experienced on road and trail. Content Co-Ordinator Jake is a BMX rider by trade. Operations Co-Ordinator Milly had not ridden a bike in almost ten years (but took to the training like a duck to water!). And I had recently caught the mountain bike bug, but had not ridden for almost a year due to a bad crash. The different challenges each of us faced going into the event made it even more fun!
So we loaded the bikes on the trusty hatchback and made our way to Embankment. We knew we would be going through some densely-populated areas, so we zipped a few Z-LOKS to the bike rack to deter any opportunistic thieves!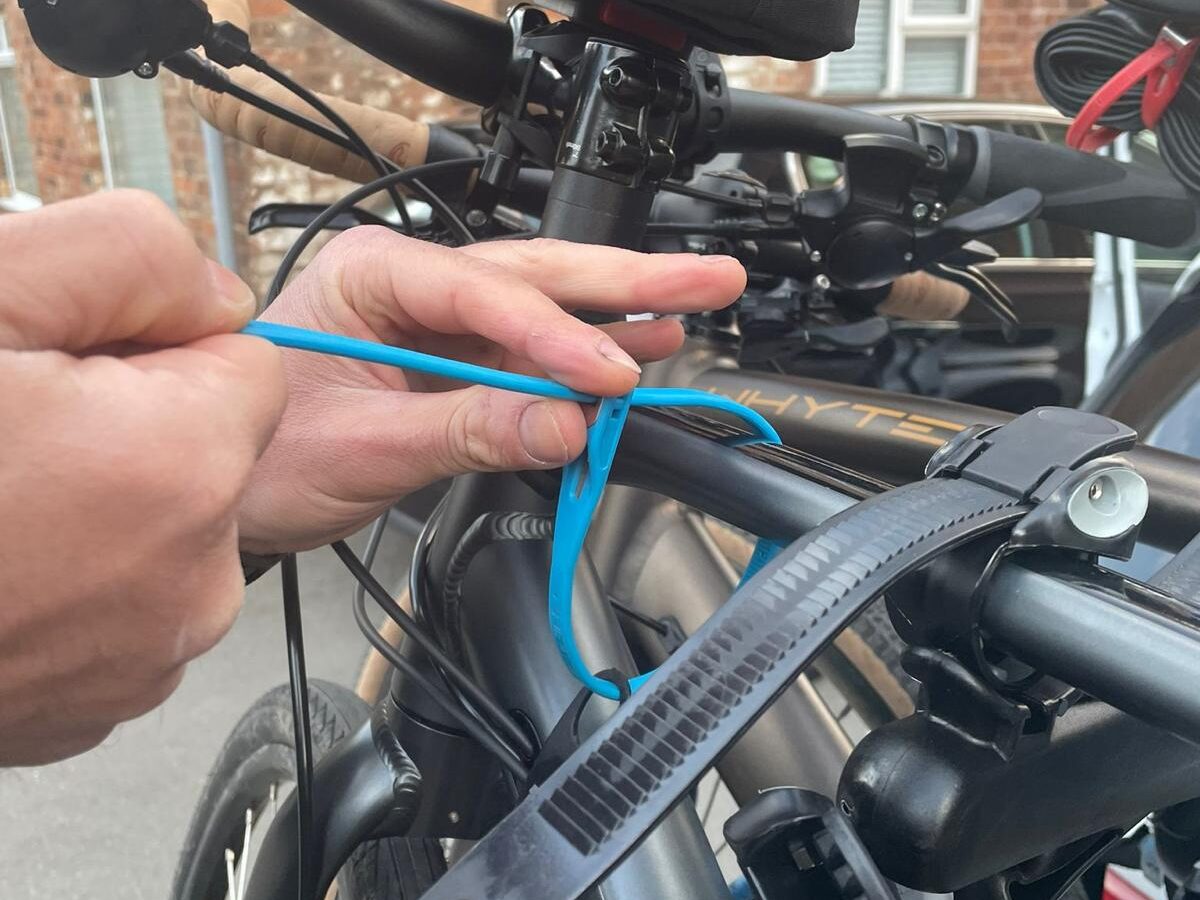 Even in the early hours of the morning on the M40, it was clear that the weather was going to be the real star of the show. We hit temperatures of 21 degrees with blue skies as far as the eyes could see. It was a reminder to keep our fluids up, and the thought of a frosty finish-line beer fast became my lake in the desert!
Riders at the Ready
We took the decision to pre-book parking in Kensington, which meant a leisurely 10 minute ride to our loading point at Embankment. Parking wasn't cheap, (which was evident by the cars we were parking next to!) but it took so much of the stress out of our arrival. We made our way to our designated start point, but things had descended into a bit of a free-for-all; understandable once we learnt of a crash near the starting line. After almost an hour of waiting time and funnelling, we were off!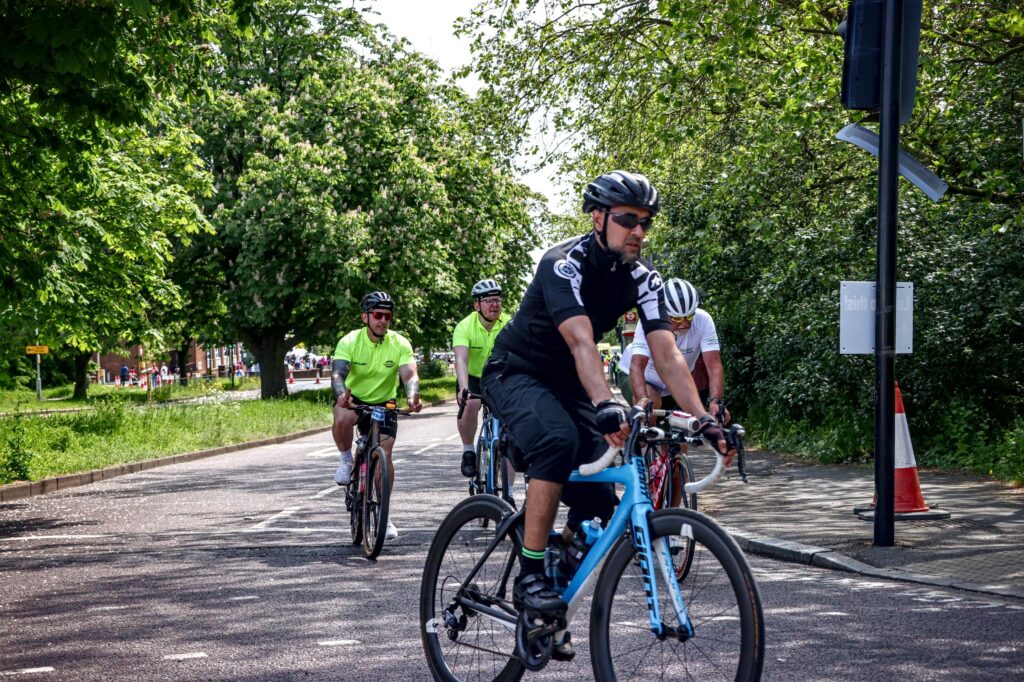 On your bike
Once we got going it didn't take long to snap out of our 4am wake-up fatigue. The hot sun, carless roads and stunning landscapes of an awoken London was like being dropped in cold water; it was almost surreal. It was noticeable immediately the feeling of euphoria amongst our fellow riders. Each tunnel we roared through was greeted by woops and howls; a sudden realisation that today was the day of the bicycle. It was incredibly liberating to not be imprisoned by the left-hand side of the road, sprawling over the lanes, only occasionally having to be mindful of fellow riders.
As we climbed the A12 towards Stratford, a glance to the right gave an inspiring view of the Olympic village. It was at this point that some riders had taken the opportunity to stop and refuel, catch a breath, or snap a photo. It was so nice to see fellow riders helping each other with repairs and sharing snacks!
We then entered Essex and the landscape changed. Suddenly the town of Woodford greeted us like West Ham's open top bus after winning the Cup Winners Cup in 1965. Volunteers, locals and charity patrons gave us such a lift on the side-lines. I was blown away by how many people had turned out.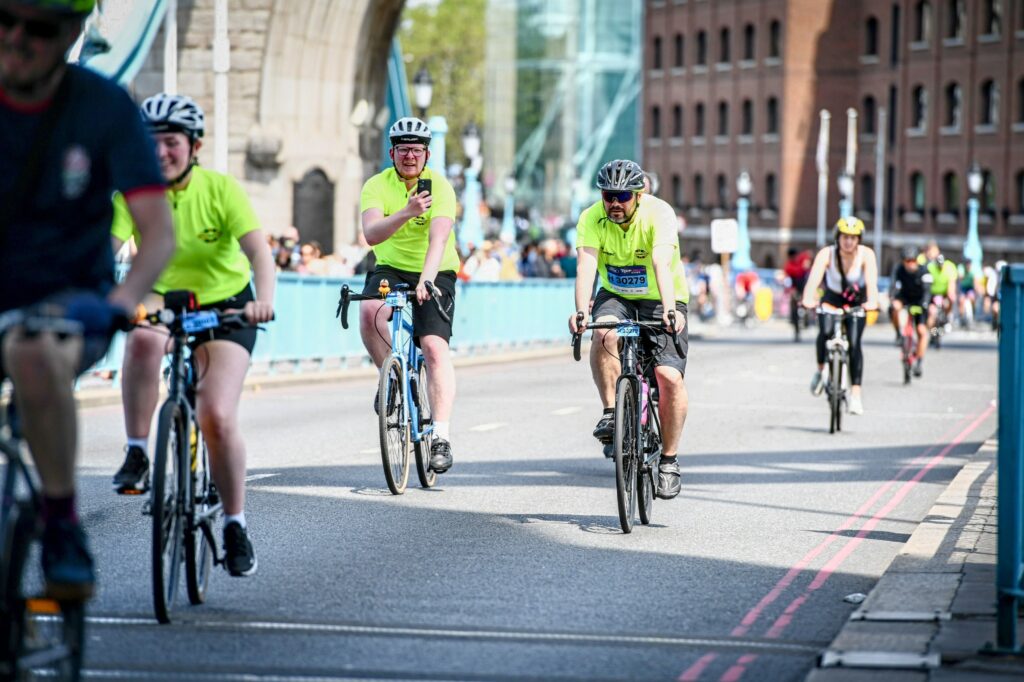 "I'll race ya….."
As per the route, we doubled-back. The once taxing peaks of the A12 turned into rolling rails of downhill joy. As we rallied through the city back towards a spectacular finish at Tower Bridge, we could already hear the cattle bells and roar of the crowd. The finish was undoubtedly the highlight of the ride. Seeing London in all its glory inspired us to agree to a sprint finish. I won't mention who won that; let's just say controversy was involved!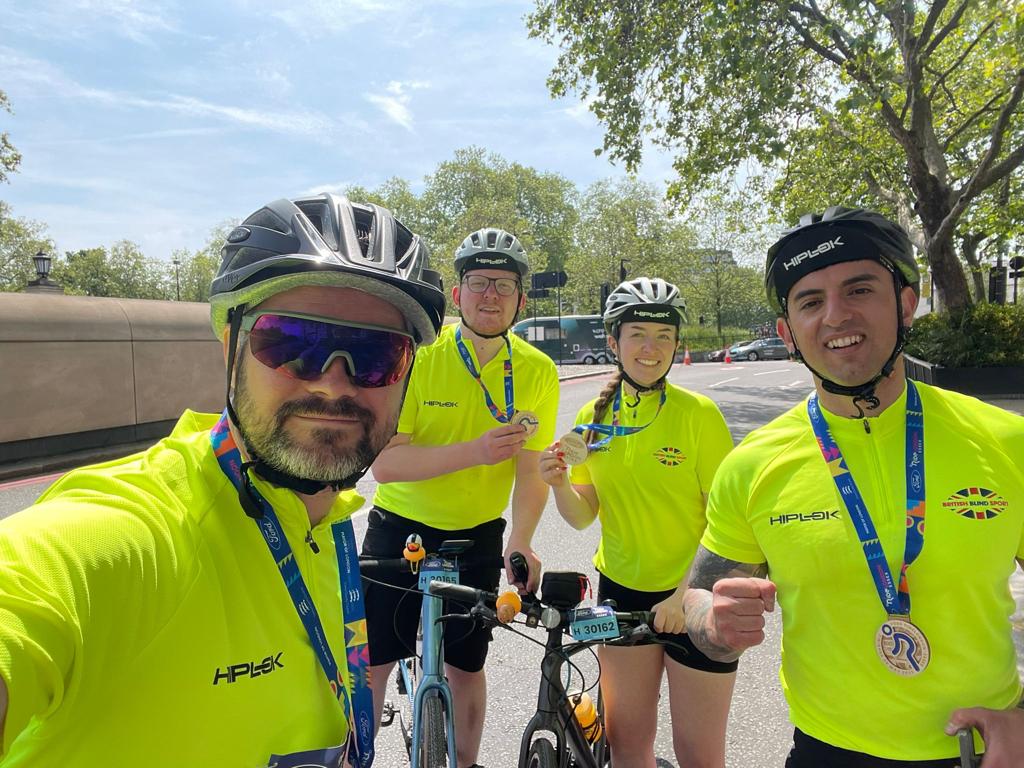 Once the adrenaline of the finish had worn off, we were hit by an uncontrollable hunger. We stopped at a café in Kensington that was far too classy for 4 puffing, sweaty cyclists. A cheese toastie never tasted so good.
It didn't take long for us to start discussing next year's event. I would recommend RideLondon to anyone. There is an event for everyone no matter your experience, and the mood amongst fellow riders, volunteers and spectators was so refreshing.
We also raised £521 (and counting) for British Blind Sport, which will be matched by Hiplok. It's not too late donate – https://www.justgiving.com/fundraising/hiplokridelondon. BBS do some fantastic work, making sports accessible for partially-sighted and blind people for almost 40 years. You can read more about their goals here- https://britishblindsport.org.uk/.
Now the question is, what shall we do next?!