We consider the best options in bike storage. Bicycle ownership is on the rise but unfortunately so is bicycle theft from homes. The latest Crime Survey for England and Wales estimated 285,000 annual incidents of bike theft and most of these were theft from homes (Nature of Bike Theft Report).
Many of us think that once our front door, garage or garden shed is locked then our bike is safe.Unfortunately, this is not the case and it is why insurance companies are increasingly calling for bikes to be locked with a Sold Secure rated lock when stored in homes, sheds or garages. The use of a secure bike rack is something that is important to the security of bikes, but is unfortunately often overlooked.

If you are looking for the perfect way to safely store your bike when you are not in the saddle, then check out our guide to the best bicycle storage on the market and find the right option for you and your ride.
Bicycle Ground Anchor and Chain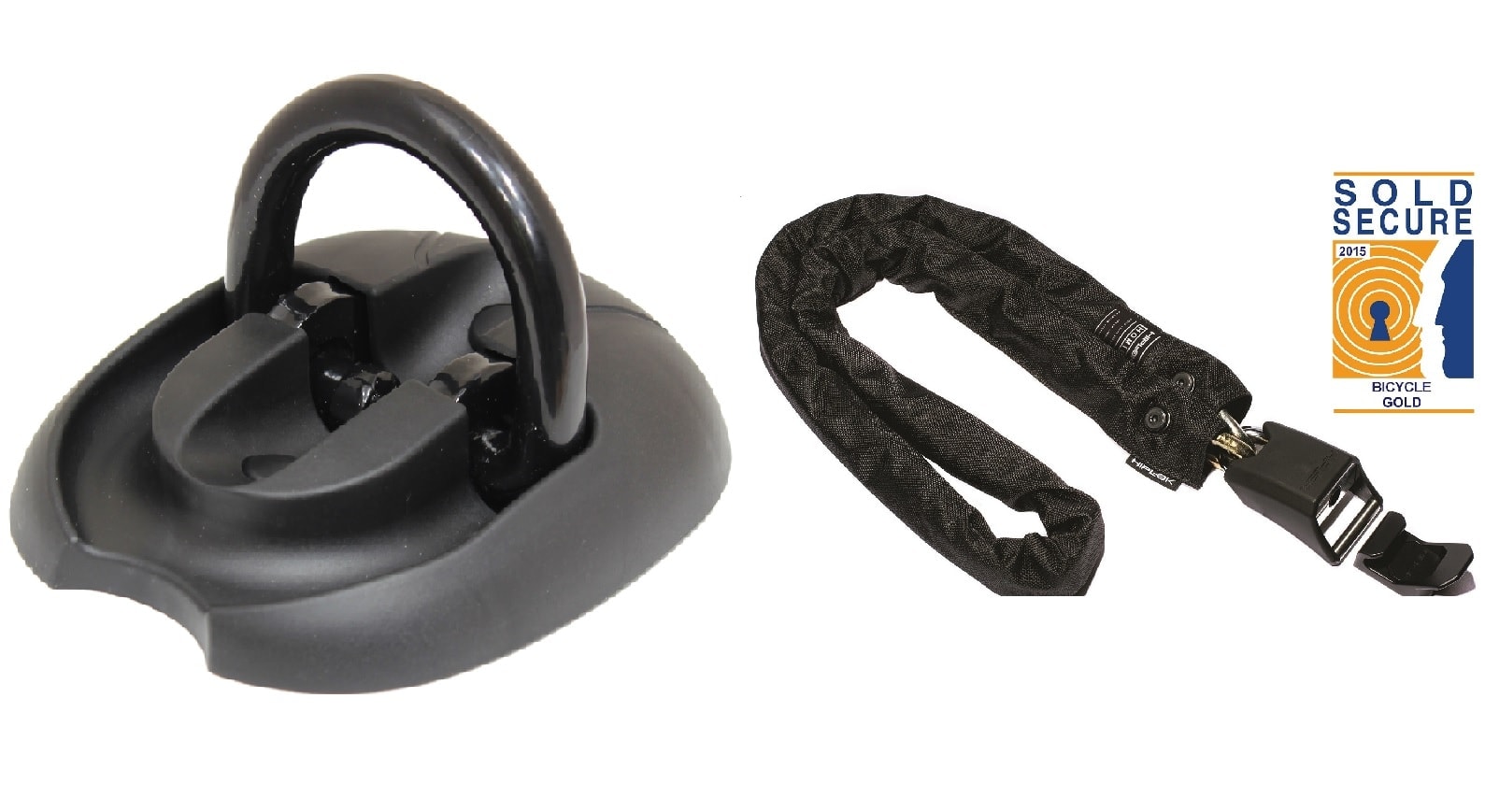 This is one of the most common solutions for securing your bike in basement, shed or garage. There are several cycle ground anchors on the market but always choose the most secure possible – look for the Gold Sold Secure rating. Of course, once you have drilled the anchor in to the ground, you then need to purchase an equally strong chain lock. For home storage we recommend a GOLD Sold Secure rated multi-bike chain such as the Hiplok HOMIE.
Upside: Although pretty unsightly and the drilling of the anchor in to the ground can be time consuming, this is a solid solution and gives the option of securing more than one bike.
Downside: The requirement for both an anchor and chain do make it an expensive option. It also doesn't offer any space saving storage, and can make your cellar or garage floor more congested.
Bicycle Wall Anchor with Chain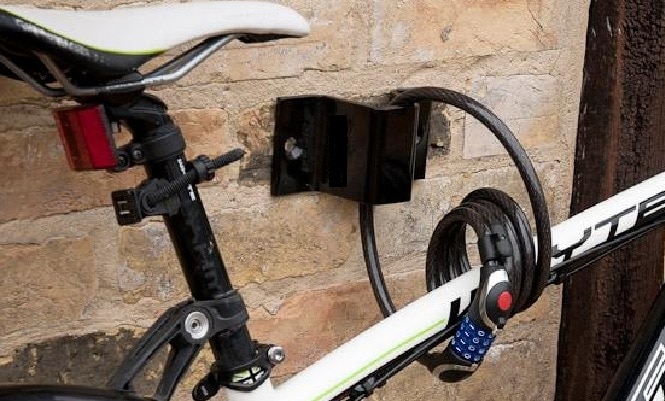 This offers a similar set up to the ground anchor and some anchors can either be installed in ground or wall.  The wall anchor offers a little more practicality in that there are no large metal trip hazards on your floor but for security. But again there are a whole range of anchors out there and so ensure you look out for the Sold Secure rating and use a suitable GOLD rated bicycle chain such as the Hiplok GOLD for single bikes or Hiplok HOMIE for multiple bikes.
Upside: Secure option and wall fixing means there is less trip hazard than an anchor in the ground
Downside: It can be fairly unsightly on your home, shed or garage wall. It also requires both an anchor and chain and ideally at a GOLD Sold Secure level, this can be expensive.
Bicycle Wall Hanger with Lock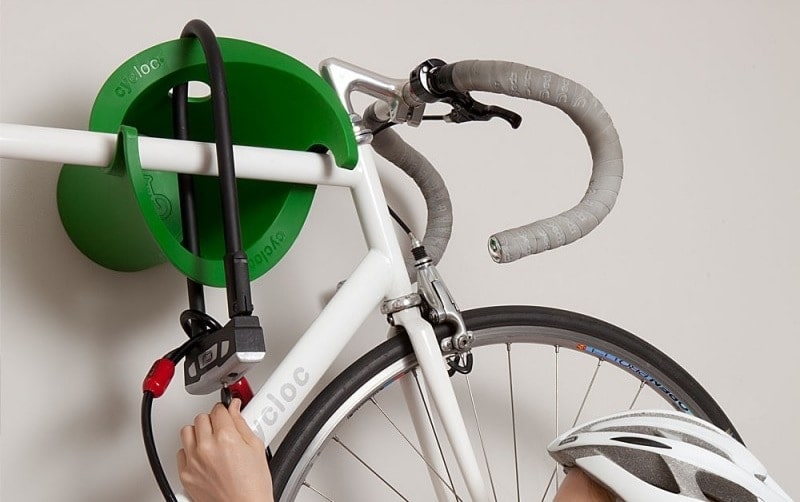 There are some elegant wall hangers out there which are more pieces of furniture than lock, designed to complement your interior design and allow you to display your bike on the wall elegantly.
However, to ensure your bike is secure you will need to use another lock with them to make these a secure bike rack. A common option is a D-lock or U-lock (such as the Hiplok DX GOLD Sold Secure U-lock) looped through the bike and hanger but unfortunately, this is not designed to fit, can be cumbersome and somewhat defeats the purpose of having a beautiful hanger elegantly displaying your bike on the wall.
Upside: Lifts the bike off the floor offering practical space-saving bike storage.
Downside: This is not a secure option and so requires the addition of a lock. Most hangers also do not securely fix on to the wall and so even if you have the bike locked to the hanger, a thief is more likely to be able to pull it off the wall.
AIRLOK Store + Secure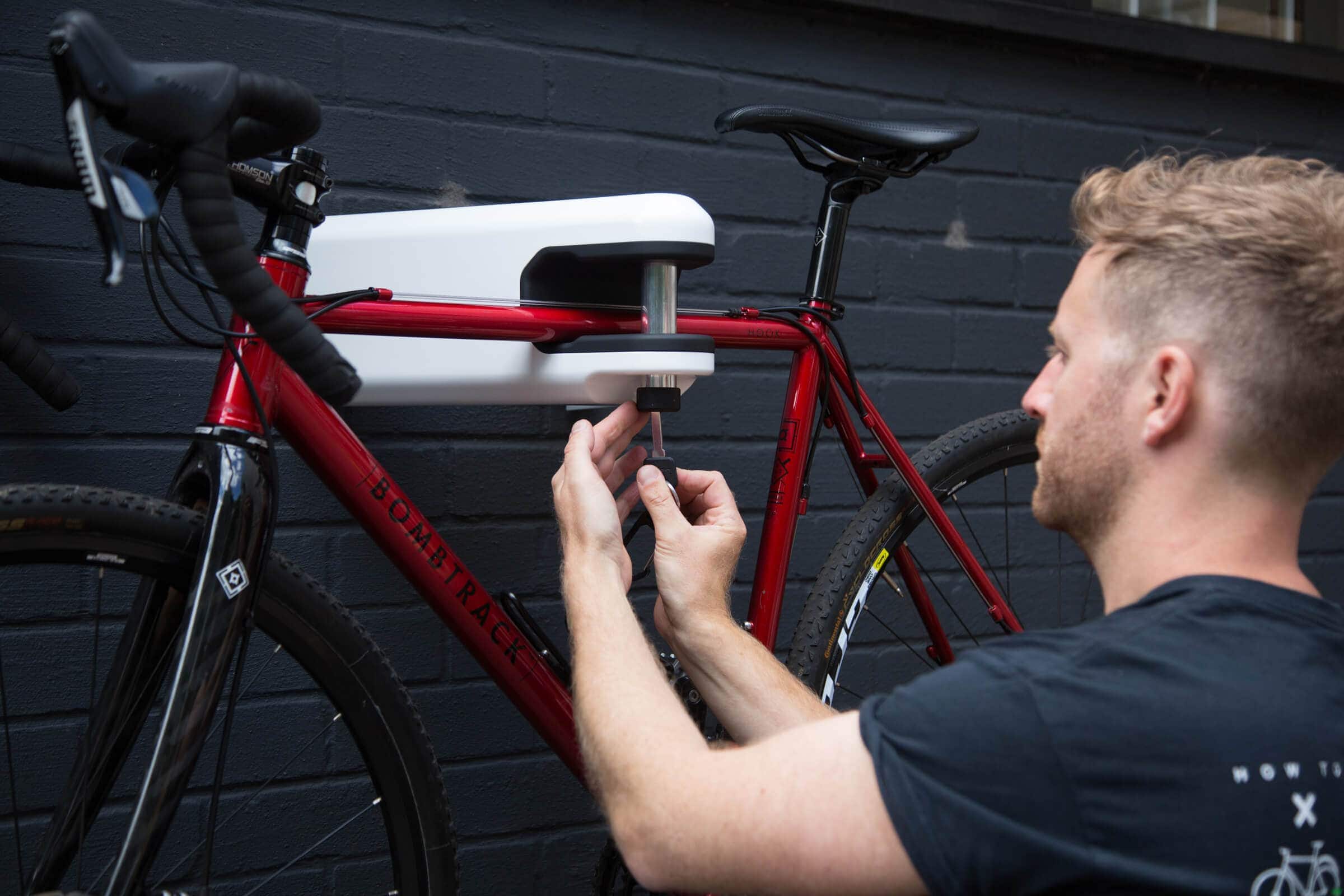 The Hiplok AIRLOK is the only GOLD Sold Secure bicycle storage hanger. It's hardened steel frame and integrated lockable steel bolt combine to keep your bike safe while storing your bike off the ground, freeing up space in your cellar, garage or shed. AIRLOK's triangular design looks elegant on the wall and makes it suitable for different types of bike frames and there's even an integrated rubber mouth to avoid frame scratch. It's easy to install and comes with security fixings meaning that a thief would have to take the wall with them if they want to remove it (check out the bike security testing:  )
Upside: The perfect combination of practical design and security for safely storing your bike at home or office. It is Sold Secure GOLD and weather tested for both indoor and outdoor bike storage.
Downside: AIRLOK's slimline design and easy access means it is only suitable for one bike. But this has it's benefits in terms of easy access and you can always install several on one wall to safely and securely store multiple bikes.
To see more on securely storing your bike: SEE SECURE BIKE STORAGE