We are super excited to announce Wheelbase as our March store of the month. Based in the Lake District it's one of the UK's largest bike retailers. We caught up with Toby to get the low down…
Tell us a little bit about Wheelbase's history and how it's become the UK's largest cycle store.
WHEELBASE is now 23 years old and is run and stocked by riders, that's the key to our business. We stock a huge range of bikes in all sizes and hence we have a customer drive radius of up to 2.5hrs from the store. The two cafes and beer hall on site also help things!
With the Lake District at your doorstep, there must be plenty of amazing places to ride your bike, tell us about your favourites and why.
There is loads of riding from our store, you can be on some of the best trails in the UK within 10min. My favourite place is Garburn Pass, it is a famous Lakeland Pass and both the climb and descent are renowned and revered in equal measure. If the weather is good I'll try to get over before work, it's a 1 hour lap if you get peddling!
Are there any Strava enthusiasts in the store? And is there a particular segment everyone's after?
Strava has been banned recently on our shop rides however the segment they all want to get is on the way into the shop but I think you'll need to be drafting a moped to beat the time now.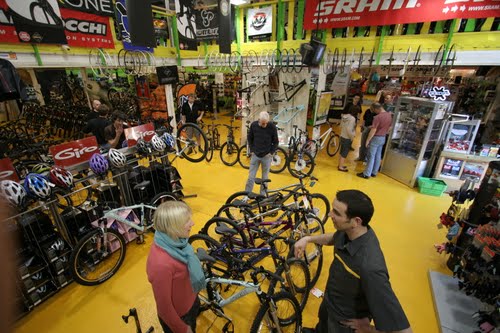 How did you get to hear about Hiplok?
From our Rep Andy, they look modern, innovative and not your conventional idea of a bike lock.
What's your favourite Hiplok and why?
Hiplok D – a simple solution but looks so sleek.
With spring in the air what's going to be this seasons must have bike/accessory?
The new Giro Monaro with MIPS is doing it for us right now.