We are kicking off 2017 with an absolute cracker for our "Store of the Month".
Look Mum No Hands (LMNH) is an ultra-cool cycle work shop/café based in Shoreditch, East London. It epitomisers London's thriving bike scene and is a must-visit destination for any two wheel fanatics. We caught up with LMNH'S Alex, to find out more.
H: LMNH is famous for being one of London's first cycling specific cafes/workshops but it's grown into so much more than that. Holding regular events from bicycle jumbles to arts exhibitions to basic maintenance courses and Rollapaluza races. Can you tell us what upcoming events you are most excited about?
AD: I'm excited to help host this event on Thursday 2nd March: Katie Kingham and Emily Chapell from the Adventure Syndicate present an evening on women's cycling in aid of Women v Cancer.
We're in discussion with the London Bike Kitchen to host a Bikeoke (karaoke on a bike) event in March… watch this space… Take a look at snaps of the previous event.
There's a new round of monthly Bicycle Maintenance Courses with our teacher / comedian / guru Digger.
Our current exhibition is a double whammy with @velosteel and a limited edition print by screenprinter Dan Mather:
The next exhibition starting in March will be by Beth Hillier, behind clothing brand Bon Courage Apparel. She travelled out to the Pyrenees with a photographer, cycling and snapping Le Tour on black & white film.
H: With multiple pop up stores, already under your belt and a LMNH kitchen opened in Whitechapel, are there any plans to expand the LMNH brand within or even outside of London?
AD: *taps nose* now that would be telling.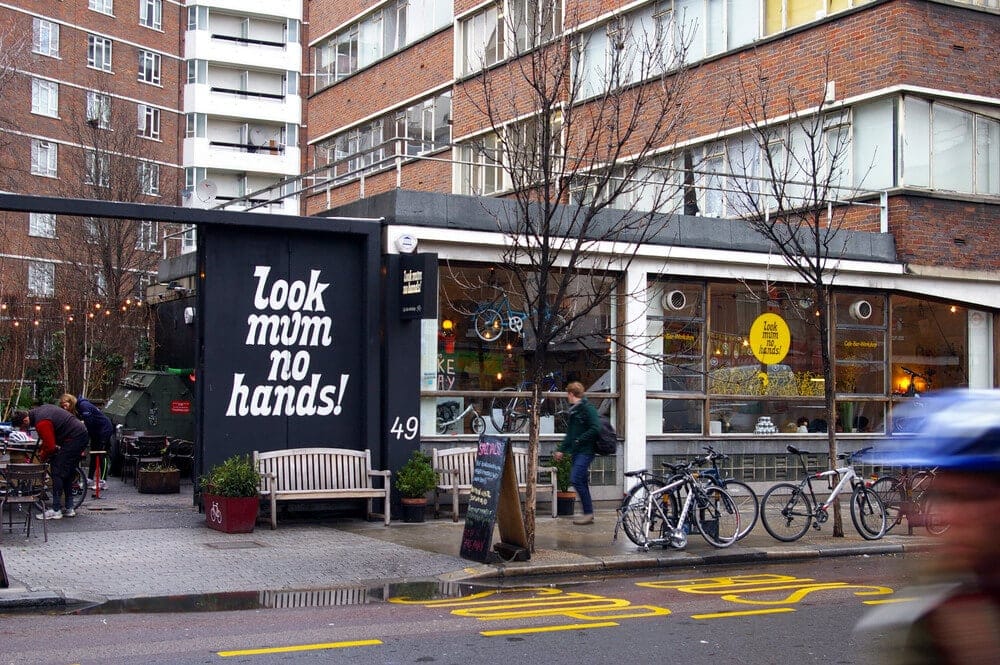 H: Over the past few years the UK has really caught the cycling bug and London is now being recognised as a cycling city. Other than London, what are your favourite cycling cities?
AD: Utrecht. The Netherlands is beautiful, people aren't cyclists, they use a bike to get around. It's faster, easier and way more fun. Get to Amsterdam, Utrecht is just a half an hour train ride away. I rented a cheap room that came with a bike in May last year. You can cycle along stunning canals, drop in and out bars & shops. London is slowly working it's way towards this culture of using your bike to get around and it doesn't have to be a large part of who you are. The infrastructure will bring tears to your eyes. Always separated from traffic, special crossings… you need to experience it to believe it.
H: Appearing on multiple TV shows and being the base for a series of ITV's Cycle Show, LMNH is the go to venue for media types covering cycling culture in London. It must be an exciting experience being part of so much media hubbub, tell us a bit about it?
AD: We're just down the road from the BBC so they pop in a lot of film interviews, pieces on coffee, cycling or cafe culture. The cafe has large windows which makes the space bright and light. We get a film request roughly once a week and I think that's a large part of it. Last year the cafe became the set for a Bollywood film! The Cycle Show used us a few years back and we'd love them to come back 🙂 We worked with the ITV over the summer at our Southbank Pop-up as again, we were just down the road from their studios. They brought Ned Boulting to the cafe, plus Gary & Matt discussed Le Tour highlights down on the Southbank. It was a lot of fun. Can't wait to (fingers crossed) do something similar this year.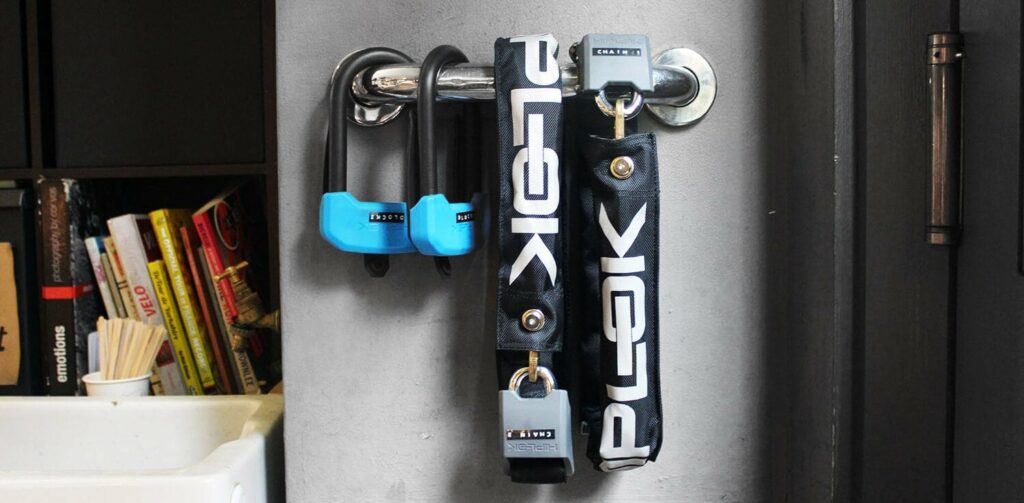 H: With the festive season, well and truly over and thoughts of new adventures for the year in mind, do you have any cycling resolutions for 2017?
I cycle every day for work (13 miles in total) so I'm happy with the amount I'm tucking under my belt. I've decided to attend more London Bike Kitchen Women and Gender variant (WaG night) nights. We learnt about the M check on Monday and I installed a new chain. 2017 is all about learning more about my bike and providing tender loving care from my own two hands. Danielle from Casquette magazine has mentioned a cycle tour of Japan. I went there in Sept last year but didn't get a chance to ride a bike at all… it's on my cycling agenda… we'll see what happens…
H: We are super excited that Hiplok is now available as part of LMNH's "Loaner Lock" program. Do you have a favourite Hiplok and why?
AD: I'm an Original fan. You can wear it. It does the job.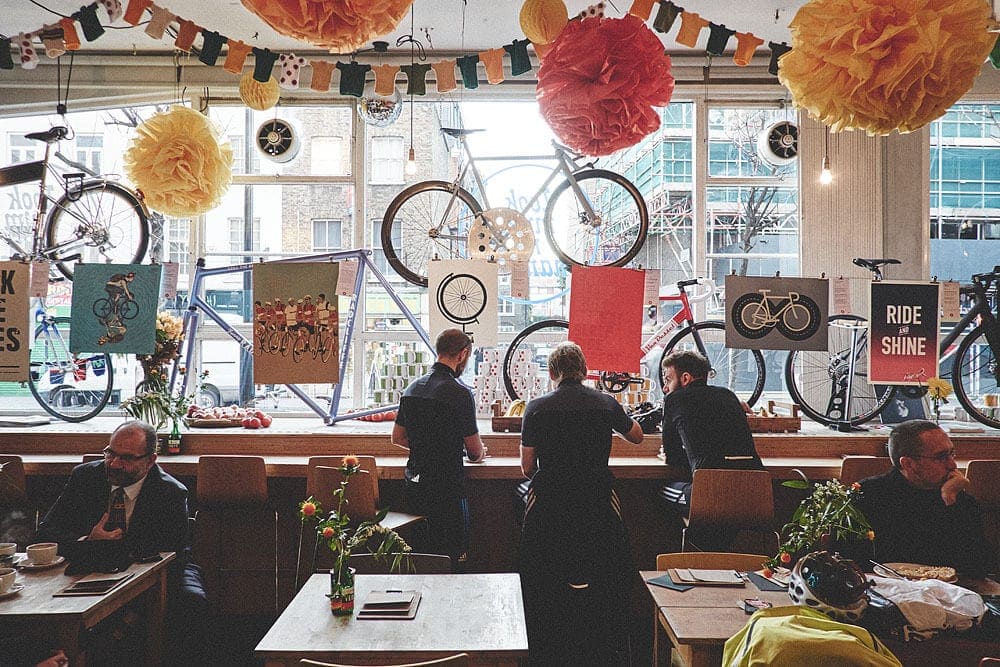 H: For us here at Hiplok, Sunday is always the best day of the week for getting out there on our bikes. Tell us what would be your perfect Sunday ride and why?
AD: I'll be honest. I'm usually hungover on Sunday. I prefer to go out for a ride during the week and work a bit later. Being based out East, I'm a massive fan of Victoria Park. Cycling through, doing some laps, looking at the Pagoda or going to the Pavillion are my favourite things to do on a ride that isn't my commute. I'll also admit I ride through Viccy P on my way to work and I LOVE IT.