On a recent trip to Switzerland, we had the good fortunate to pop into BikeHubs of Zurich. We were bowled over by what we saw in store and from then on BikesHubs were definitely on our radar for a Hiplok "Store Of Month" post. So, for a very special February Swiss addition of SOTM, we caught up with BikesHubs Jan Meier to chat MTB, first bikes and perfect rides.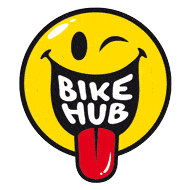 BikeHubs primary focus is MTB, what's the scene like in Zurich?   
We've set our primary focus on MTB as the local scene focuses a lot on quality and performance and we figured out that the only way to provide the wanted level of quality is by reducing to the max.
We don't sell cheap bikes, we only sell bikes that will provide a lot of fun and a quality ride for at least a few seasons.
Also as avid Mountainbikers its much more fun to sell and work on bikes we are riding too. Our main focus is quality and knowledge so we simply sell what we enjoy most.
In the end this is of what the Consumers profit most. We ride bikes – like a lot. So we know how to set them up, fix them and how every single one varies from each other. This wouldn't be possible if we had to split our knowledge between all the different types of bikes.
Also it's a lot easier to have all the important parts in stock if you focus on MTB only as space is limited. That's the reason we can offer Fork and Shock services for most products within 24h for example.
 Are there any good MTB trails nearby?
There are surprisingly good trails nearby. You won't believe but some of the best trails we've ridden are within 30min of pedalling of our shop. They got great Loam during winter and Spring. Our lunch breaks and evening rides are mostly spent on these trails. Also we are doing "Social Rides" on various trails every Saturday as soon as the sun stays out long enough. We spend most of our free days in summer in the Swiss alps though as it won't get much better than that and spending two hours in a Train to ride the best trails Switzerland has to offer is absolutely worth it.
Tell us about your first bicycle?
 I remember my first bike being a cheap ass hardtail from local supermarket. My father gave it to me as i was about 12. I loved it. Unfortunately at this time i discovered a lot of Josh bender Videos which lead to the bike lasting for like 6 months. At that point my career as a bikewrench started too as i always had to repair the countless cheap bikes I had afterwards. That was until i finally bought a Kona Stinky, which I consider my first " real" bike, which means it latest for two whole seasons.
 Tell us about your favourite Hiplok and why? 
My favourite Hiplok is the Hiplok-Lite as it is still light enough to take it with me for longer rides but also strong enough to sip a beer or two afterwards without being worried to leave my bike unattended.
For us here at Hiplok, Sunday is always the best day of the week for getting out there on our bikes. Tell us what would be your perfect Sunday ride and why?  
Perfect Sunday ride is pretty much what we are doing on Sundays. We get up early and either meet at the train station or at the shop with coffee but without really a plan of what to do. We then just head out to either the alps or our local hills and just have a party with riding all trails that just come to mind without being too serious about it but still pinning it. We either discover new trails by doing so or just enjoy the ones we already know. And always pushing each other's limits up and down but always with a big smile and not always to serious. We sometimes stop and try stuff or do a session at some fun spot. We ride until we can't no more and then have a beer and let the day sink in. That's what MTB is all about… The smile's gone – the Bike's gone.