You've got a bike and you've got a bike lock, great. But how do you make sure your bike is as secure as it can be in public?
Bike security is our top priority and we have developed a range of different bike locks for various situations. For instance, the lock you're likely to need in the middle of London is going to be different to a small town or village. But in any case, there are certain things you should bear in mind.
Where to lock your bike in public
Finding the right location when leaving your bike in public is important. Any secure cycle parking facility is ideal, such as those provided by Spokesafe in London, a bike safety company which provides a network of secure bike parking facilities.
If that's not available to you, then dedicated bike stands are the next best thing. And if possible, try to choose stands that are covered by CCTV, to add some deterrence to any would-be thieves. When you lock your bike to the stand, try to lock both your frame and wheels (but more on this later). It's also a good idea to check the bike stand, to make sure it hasn't been tampered with!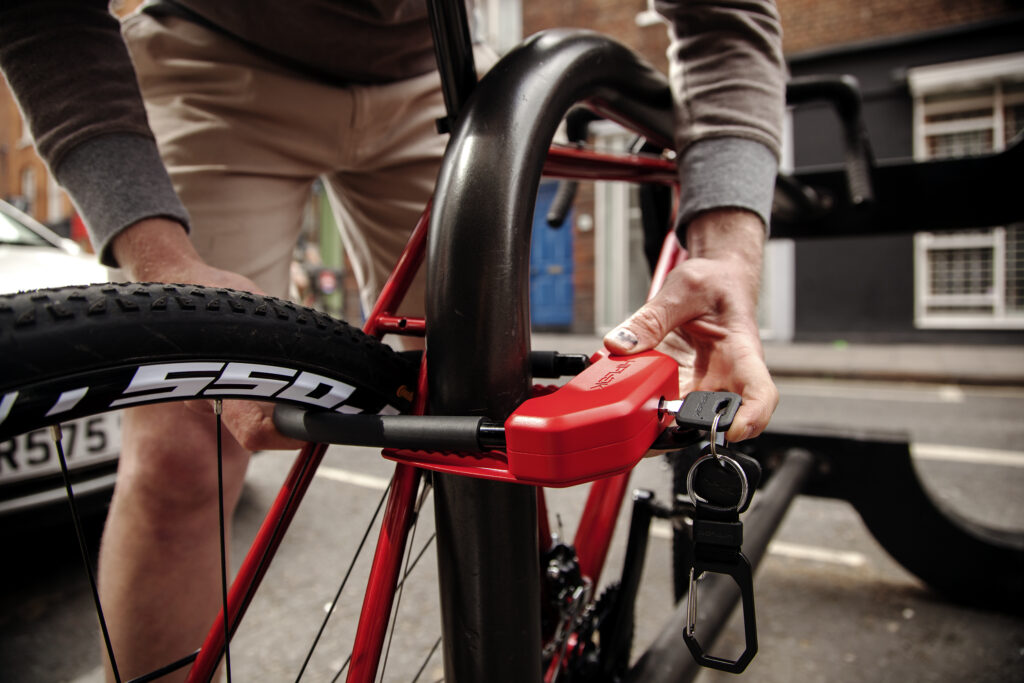 Don't be tempted to lock your bike to railings or fences which can be easily cut or opened to access your bike. Similarly, your bike and bike lock could simply be lifted over a sign pole. So wherever possible you should always look for a solid bike stand.
Footfall is another thing to consider. Try to lock your bike in a well-lit, busy area, where there are lots of eyes to deter any opportunist thieves. If you lock it somewhere quiet and out of the way, it simply gives someone more time to work on the bike lock and get away with your ride.
How to lock your bike in public
Firstly, you need a good bike lock. In the UK, we use the Sold Secure system to rate bike locks. Sold Secure is an independent testing and certification house for security products and they have four levels of security rating: Bronze, Silver, Gold and Diamond.
Diamond Sold Secure products provide the highest level of security and are aimed at high-end bike and e-bikes. Bronze Sold Secure products will protect your bike against the opportunist thief. A Gold or Diamond Sold Secure bike lock, such as the Hiplok DX is what you'll ideally need if you're locking your bike up in a busy town or city. Whereas a Bronze Sold Secure product such as the Hiplok LITE would be more that suitable in the quieter suburbs.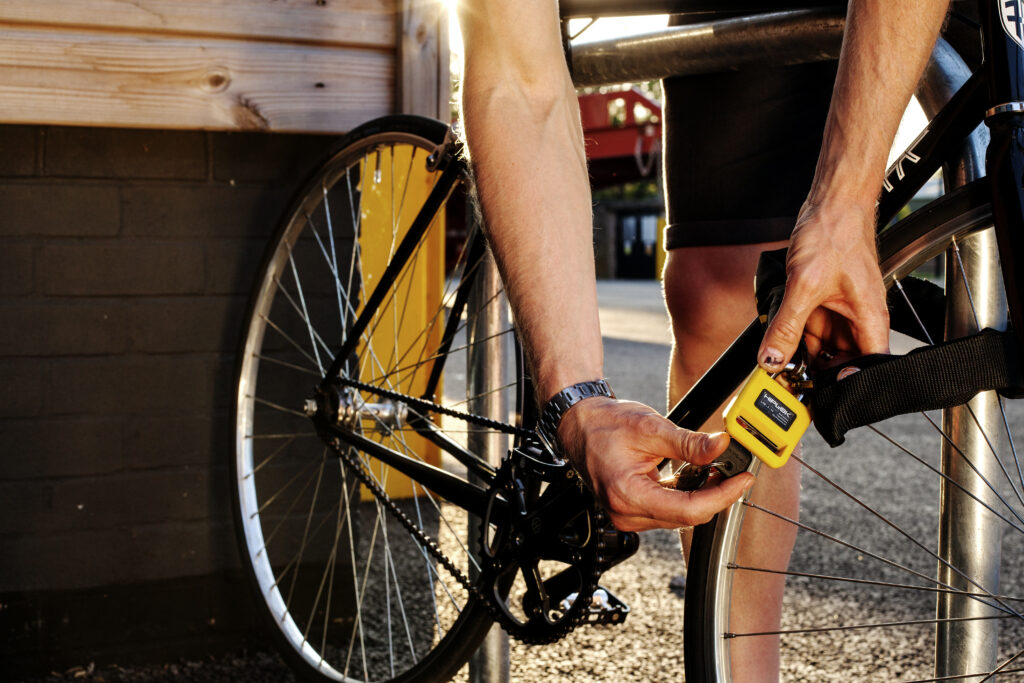 Whichever lock you choose, you'll need to make sure you lock your bike correctly. So we've put a few bike safety tips below:
When locking your bike up, always lock your frame and if possible your wheel to the bike stand.
Lock, or take with you, anything that can be removed, such as lights, bags, quick release saddles or wheels. It's sometimes useful to carry an additional lightweight lock to secure these to the bike, such as a Z LOK.
Try to position the lock so that it's awkward for the thief to attack e.g. high up on the down tube.
Finally, insure it. There are various insurance companies such as Pedalsure, specifically for bicycles and cyclists and is well worth the peace of mind, should the worst happen.