Storing your bike in a shed or garage can give you great peace of mind. It's protected against the damage caused by nature's forces and, of course, storing inside offers some protection against theft. However, did you know most bikes are actually stolen from in and around the home? Securely storing your bike while in a garage bike rack is an important part of protecting your bike.

There is increasing evidence that the economy's current state is leading to an increase in thefts, which unfortunately includes bike theft. To help avoid the cost and inconvenience of becoming another victim, it's important that you store your bike in the safest way possible, while ensuring it is still easily accessible.
The Hiplok JAW+ is one of the most practical options for shed and garage bike storage with added security. We have explored this storage solution below along with some further information around what you can do to help to protect your bike from theft.
HIPLOK JAW + Z LOK COMBO
COMBINE THESE FOR A SECURE AND PRACTICAL STORAGE SYSTEM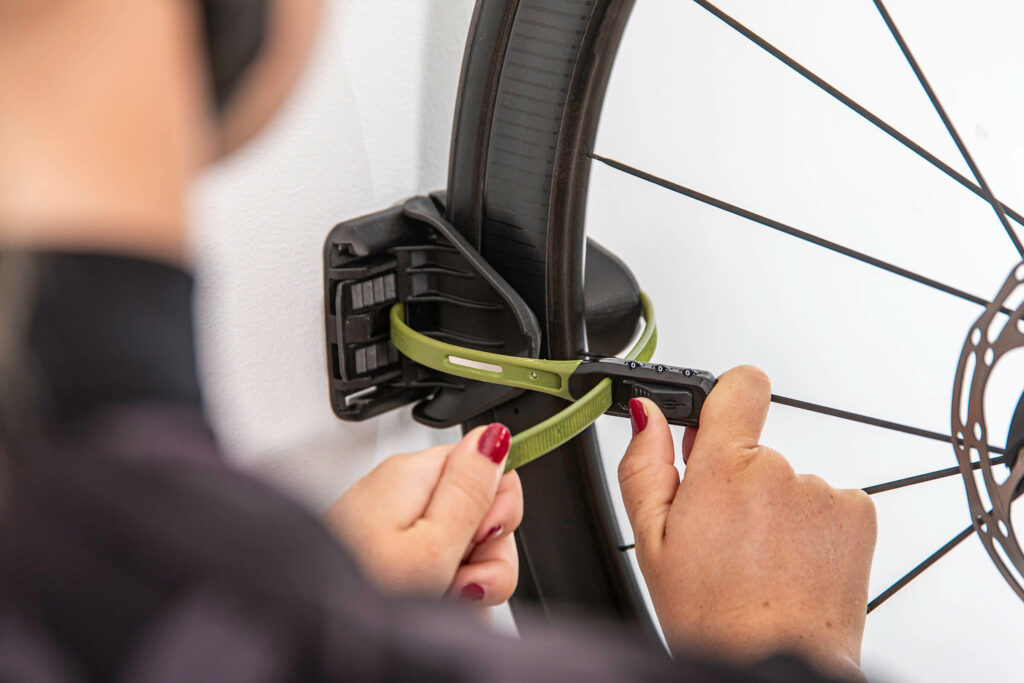 Combining a wall mounted bike rack with the Hiplok Z LOK can deliver a winning solution. Whether you want to hold your bike in a vertical or horizontal position, the HipLok JAW bike rack can store a full range of cycles – from kids bikes right through to full sized road bikes or mountain bikes.
Easy to fit (with all fittings included), the JAW is designed as a garage bike rack that will fit in with your wall space, so as well offering some security when paired with a Z LOK, will offer a simple bike storage system. The ability to store your bike vertically with added security not available from a traditional wall hook, offers a bike storage solution that's both secure and convenient.
Upside: Easy to fit, easy to use, and fits all bikes. Perfect solution for a shed or garage bike rack.
Downside: As the JAW needs to be installed to a wall, you may not always have permission to install it where you want it. If you cycle to work and wish to install the rack there, it is likely you would need to seek permission for this.
These two items are available separately, so let's look at them individually:
Compact Universal Bike Rack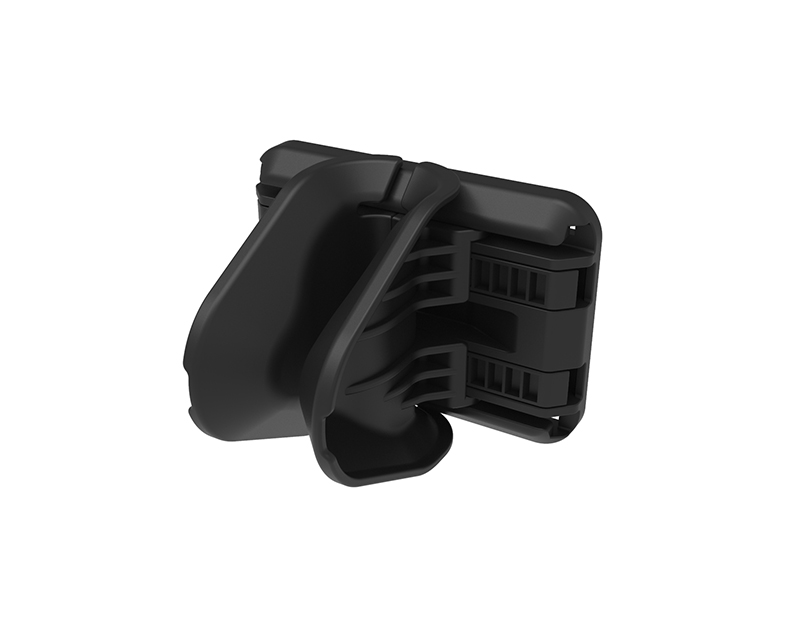 The Hiplok JAW takes just a few minutes to install in any shed or garage and comes with all the fittings you need. By wedging your bicycle tyre into it, the Jaw will hold your bike and work with how you would like to arrange your floor space by offering either vertical or horizontal bicycle storage. If you're planning to install this in a shed, you are able to add a sheet of plywood to the shed's wall and then affix the Jaw to this.
Upside: Fully adjustable for any single bike size. Simple to fit and easy to use.
Downside: Not always possible to fit wherever you park your bike. Not secure until paired with a Z LOK.
Z LOK REUSABLE ZIP TIE FOR BICYCLE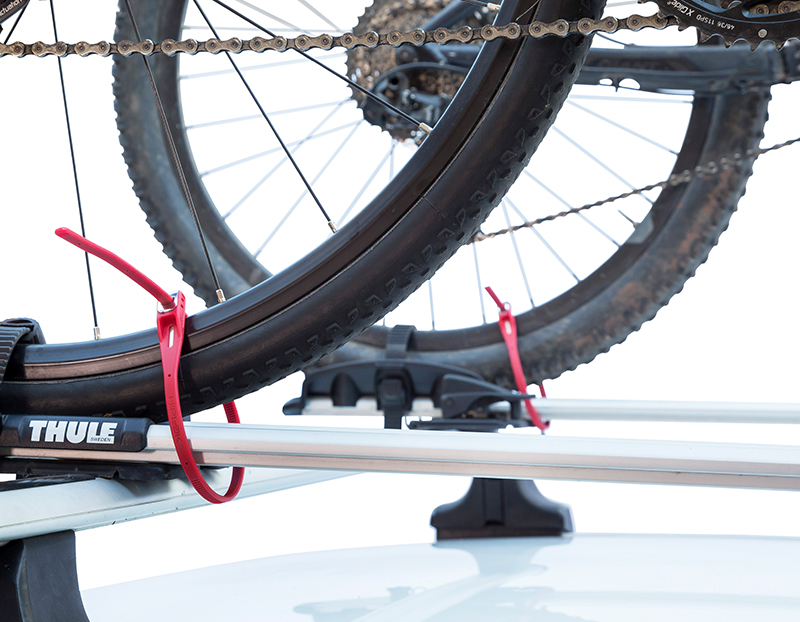 Our award-winning reusable lockable zip-like tie provides not only a lock but a way to secure your bicycle on car racks. Easy to use, you can whip this out of your pocket if you pop to the shops for a bottle of wine. Slip it around your tyre and the lamppost, then your bicycle is protected against opportunist bike thieves whilst you shop.
Plastic with a steel core means this lock is stronger than it looks. The Z Lok is 40cm long and can cinch to keep your bike better attached. The zip tie is the ideal companion for the Hiplok Jaw garage bike rack.
Upside: Lightweight, easy to use. A secure option for a wide range of bike rack types.
Downside: The security level of this lock is not as great as for more heavy duty locks. If you are looking for a more secure storage solution, consider the Hiplok ANKR and chain locks or Hiplok AIRLOK.
To find out more about these products, please follow the links below:
---
IT'S TIME FOR BETTER AND SAFER BIKE STORAGE
A huge amount of bikes are stolen every year – with an estimated 300,000 bikes stolen across England and Wales each year.
Even if you think you've covered all your bases, we recommend that you take preparations, just in case it happens to you. Storing your bike in a shed or a garage in a secure fashion can offer more protection that just storing a freestanding bike, or using less secure storage racks or bike stands.
It is however wise to consider taking the following actions that will help to make it easier to get your bike back, claim insurance, or buy a new one if your bike is successfully stolen.
Pull together all the information you have on your bike.
Creating a file of information will mean you'll have everything you need when describing your bike, sending out alerts on social media, and claiming from insurance. Include receipts, a photo of your bike in addition to a record of the brand, model and serial number. A receipt and pictures can provide evidence that the cycle is yours. You must have a record of the serial number – this is the most potent piece of information that you have and will prove that a bike is yours if you find it. You should see this either on the bottom bracket (where the pedals go through the frame), on the handlebars or close to the rear wheel.
Register your bike, and the serial number on local and national bike databases.
The primary national bike registry is Bike Register, a police-approved scheme that every police force can access in the UK. Bike Register makes it easy to alert the police of the theft, and it will also send out a tweet publicising the robbery. On the Bike Register website, there are various kits for sale to support you in permanently marking your bike.
Also, register your bike on Bike Index, which is a global bike registration and recovery service. It's got a proven track record at reuniting bike owners with their rides. The secret to their success lies in their use of social media.
Research bike insurance
Your household insurance may cover your bike, but if not, then consider getting bike insurance. If you don't want to go the official route, you could save money each month towards buying a new one.
Get bike locks
Good quality bike locks, especially when combined with a garage bike rack can deter thieves and make it harder to take your bike. Quite often, thieves are opportunists who will grab what they can and go. By making it harder to take your bike, you can give your bike a good level of protection. They are likely to look for an easier target if taking yours is too much trouble for them. Don't forget that most bikes are stolen from home so secure storage solutions even if your bike is locked in a shed or garage.
Consider buying a tracker
Just like they have on cars, these are surprisingly affordable and increasing in popularity. If a thief takes your bike, you can track where it's gone.
By adding a small transmitter and using a phone app to receive the signal, you can find out where it is. The trackers come in a Bluetooth version and a GPS version. You may wonder how a Bluetooth signal can help when there is a minimal range for the signal. However, anybody who has the tracker app may pick up the Bluetooth signal from your bike, and that information feeds into the app. Alternatively, the GPS version covers a much more extensive range.
Using safe bike storage can help, but prepare for the worst – and you'll be making your life easier.
In summary, there are some very effective ways to store your bike these days securely, but preparing for bike theft is going to give you some peace of mind and increase opportunities for its return to you.