Our latest Store of the Month is Brighton's very own Rayment Cycles. It's one of the longest established bike shops in town stocking a wide variety of MTB, road and city bikes. We caught up with one of the directors Adam to find out more…
Tell us a bit about the history of Rayment cycles?
Rayment's has been on the same spot since 1984, we think we're the longest standing bike shop in Brighton. Though originally a road focused shop the original owner took on MTBs in the very early days, and as such we've been well known 'on the scene' since the beginning.
Grand Tour, Cobbled classic or Red Bull Rampage?
All three please, and can we add pootling to the shops and riding aimlessly along the South Downs?
Brighton is a super cool place, what's the cycling community like there?
Varied and ever growing, if you can do it on a bike someone in Brighton is probably doing it – from bike polo to bike packing, Sportive to Triathlon, Alley Cats to Big Dog it's all here.
How did you become aware of Hiplok?
Your marketing and Paul Moran our local Fisher rep
What is your favourite Hiplok and why?
The SB series, A Sam Browne without having to wear a Sam Browne!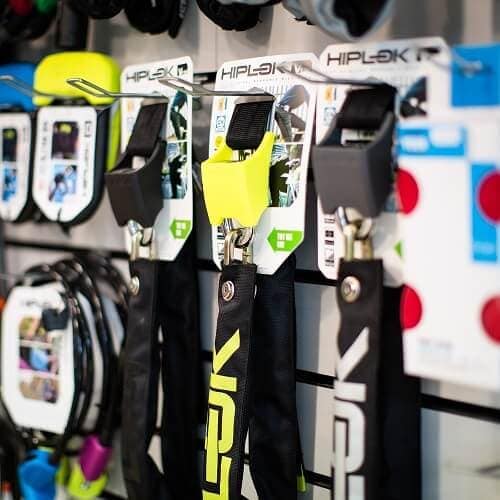 With spring already here and summer just around the corner do you have a must have item for the new season?
The Specialized AWOL – A real Swiss Army Knife of a bike
Favourite local ride and why?
Stanmer Park – It's not huge, but it has a lot of stupidly tight single track and, very soon, Bluebells!