As a keen road cyclist, I'm always on the search for what could be my next cycling challenge. For several years I'd tried to enlist my friends on various long-distance multi-day rides with very mixed results! Nonetheless, this time last year I convinced the guys that they should join me on what would be our hardest adventure yet – a cycling challenge from Paris to Nice (approx. 1000kms) – via the Alps in just under a week! The trip would have an additional significance because while cycling we'd also be raising funds for Willen Hospice, a Milton Keynes based palliative care hospice. The challenge was on!
The excitement mounted throughout 2022 (unlike the training miles) and September soon came around. Then in the blink of an eye, I was at St Pancras International station along with around 30 other riders ready to make our way to Paris for the start of this epic journey!
The route of our cycling challenge:
As you can see this was an epic challenge covering some hard miles with long days in the saddle:
Day 1 – Paris to Auxerre 146 km (790 m elevation)
Day 2 – Auxerre to Chalon sur Saone 181km (1460m elevation)
Day 3 – Chalon sur Saone to Aix-les-Bains 191km (1195m elevation)
Day 4 – Aix-les-Bains to Briancon 167km (2680m elevation)
Day 5- Briancon to Digne-les-Bains 147km (1868m elevation)
Day 6 – Digne-les-Bains to Cannes 135km (1682m elevation)
Day 7 – Gentle ride into Nice 46km
Rolling through France
The 'grand depart' started in a thick fog…but spirits were high, and we soon settled into a 'flattish' 91 miles with lots of typical French scenery, interspersed with a few café stops. Eventually, the sun shone through and made it an enjoyable first day, lulling us into a false sense of what was to come!
The next two days were hideous! Averaging around 115 miles each day, we were cycling straight into a brutal headwind; the chosen route wasn't ideal as we found ourselves battling lorry after lorry on very busy roads. It was a case of head down and getting the job done. This was not the France I had dreamed of; by the mid-point of day three, we'd lost one of our team to an achilles injury!
At this point, it's fair to say a lot of us were thinking, what are we doing? We felt like we'd definitely 'bitten off more than we could chew'! It was at that point that the Madonna del Ghisallo (the patron saint of cycling of course) must've smiled down upon us and as we departed a much-needed feed stop, the parcours staged a notable improvement! We'd reached the foothills of the Rhone-Alpes and the spirits were once again coming back to us, much like a long overdue energy gel!
The Queen stage
Day four was when the tour came alive (and ironically several of us came close to dying). We were in the Alps and rapidly heading towards two of the Tour de France's most infamous climbs – The Col du Telegraphe and the Col du Galibier. Topping out at a whopping 2642m above sea level this double climb was going to be a huge test.
The first ascent took about an hour to complete and certainly tested the legs, but as we dropped down into the valley there was a horrible sense of foreboding. I knew the stats only too well and with an average gradient of 7% for the next 18 km, the mountain winds were swirling, there was rain in the air and birds of prey seemed to be circling above us eyeing up their next potential roadside feast!
Galibier is a monster! It just keeps on going, switchback after switchback followed by long open sections between the rocks and then more switchbacks. As we ascended above 2000 metres you could feel your breathing becoming more of an effort. The group was scattered all over the road now, but this wasn't a time to regroup and wait for your friends. It was a full focus for each kilometre until eventually, we made it up and over the summit. It was worth it just for the jaw-dropping views, and then the fast 35 km descent down into Briancon. An awesome day and one that will always be in my cycling memories!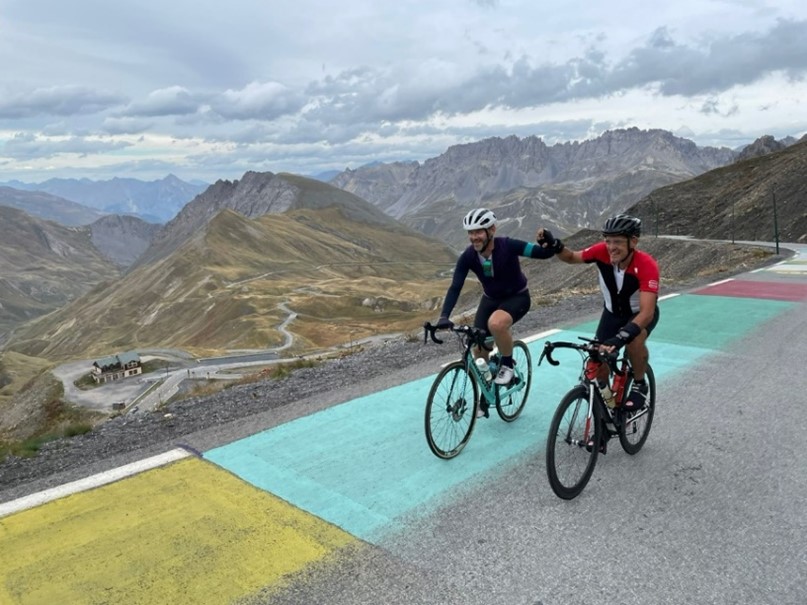 Almost there
Heading back out on day five was a real effort after the previous days' adventure, but we knew we'd conquered that hardest section of this cycling challenge. The weather had notably improved and was feeling more 'French Riviera', the route was perfect with quiet roads and long, scenic (but gentle) climbs, eventually we left the Alps behind us and clocked up another 91 miles.
Day six was the stuff of cycling dreams. Perfect weather, café stops in picture postcard villages and long sweeping descents. We gradually worked our way to the town of Grasse and then onto Cannes. Annoyingly we hit Cannes just in time for the commuter traffic and it wasn't pretty. The maximum concentration was needed to avoid any last-minute spills! The bulk of the journey was now complete with a gentle roll along the coast to come tomorrow.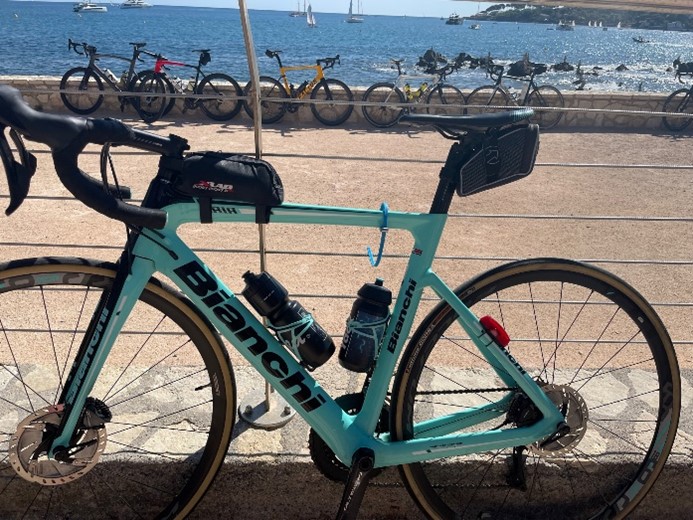 The next day, with a slightly thick head from a few too many glasses of vin rouge, we left Cannes and gently rolled along the promenade to Nice. The sun was shining all the way and as we crossed the finishing line of this incredible cycling challenge my wife was there waiting for me with Champagne and lots of food!
We did it!