Hiplok co-founder, Ben Smith, has been lucky enough to ride MTB in various corners of the globe from Whistler to Wanaka. But over lockdown, he has found solace in riding local trails with the family in Warwickshire, UK (not a place typically known for mountain biking).
We asked Ben for some tips on carving out mountain bike fun wherever you are.
Why Would you Encourage Somebody New To Mountain Biking to Give It A Go?
Like all cycling, it is a great way of having fun, exercising and getting some fresh air at the same time. But mountain biking truly gets you closer to nature and the set-up of a good quality mountain bike also makes you feel closer to the terrain and truly embedded in the outdoor environment. Sounds cliché but it's great for body and mind.
Any Specific Advice for those that might be New to the Sport?
Mountain biking can certainly take people out of their comfort zone but that's the adrenalin rush that makes it addictive. I am certainly no expert but I always tell my kids to be brave, focus and they will surprise themselves. I think it's the same for adults and it's like everything, the more you do it the better and fitter you get and the greater the enjoyment each time.
Without wanting to sound like a boy scout, being prepared is key. When you are getting out for a few hours in the great outdoors, always take plenty of water – a camelbak rucksack is perfect, a snack and check the weather for appropriate clothing. Riding in the wet and mud can be fun but not if you don't have some layers and a good waterproof.
If you aren't lucky enough to live on the edge of a Canyon or next to a Trail Centre, how do you find a good piece of Mountain Biking?
Whilst you can't always find the ultimate downhill, there will often be a little area that you can have some fun on. Even if it's just a cool corner on a remote path or even a hump in the road, visualising the terrain ahead and setting yourself some goals in tackling can be so rewarding.
If you are prepared to do some research, you can usually find some wider expanses rideable from home. The forested area of a local park or common are great places to look and sometimes you will be lucky enough to find that other like minded people have done the same and there's some trails already carved out in amongst the trees!
And What About Designated Areas? How do you find out if there are any local Dirt Jumps or Four Cross Tracks?
There's an app called TrailForks where people upload local trails and it's a great way to find less trodden routes in your local area. It's linked to the experts at Pink Bike so has a big worldwide following and thus global recommendations.
What Kind of Bike Would you Recommend for such Riding?
A hard tail mountain bike would be ideal, but these days you can have fun on any good quality mountain bike. It's always worth contacting your local bike store for their advice and also to see if you can rent one for a couple of hours. This way you can test it out before committing.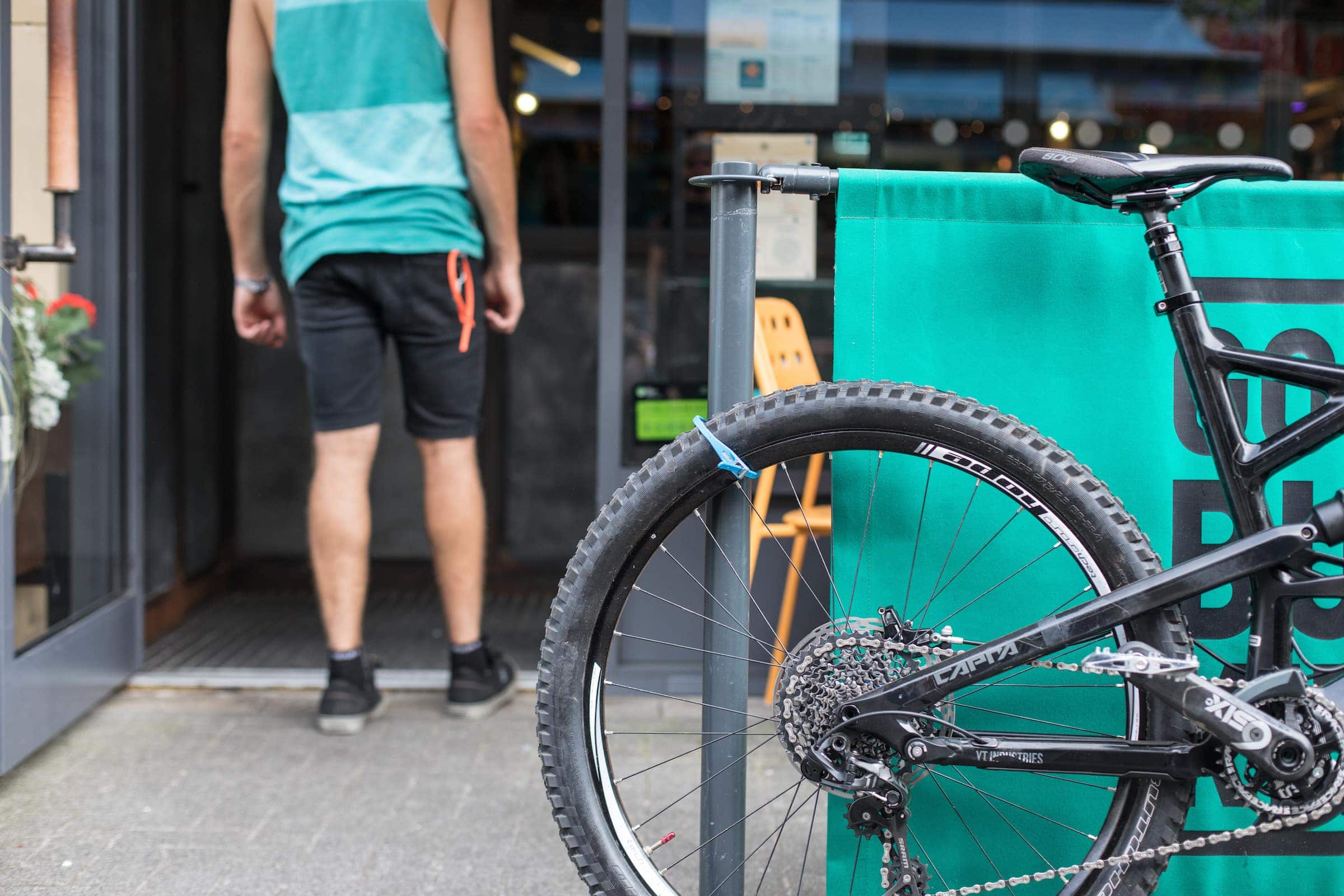 And What Gear Should You Take?
A good helmet is paramount, above all, make sure it is comfortable so you keep it on your head. Get a good pair of gloves so you can grip the handlebars and I also put a lot of emphasis on good socks and footwear, they are key to feeling in control. And obviously, the post ride coffee stop is a must so don't forget a Z LOK!