In honour of International Womens Day, our rider profile focuses on Lorna North, cyclist, runner and all round adventure-seeker.
As Editor and Founder of Queen of the Mile, a website focused on inspiring women to challenge themselves in cycling and running, Lorna wants to encourage women to achieve things they never thought themselves capable of. She is herself an inspiration to many, in the past year alone, having cycled from London to Paris in 24 hours and conquered Mont Ventoux, while training for her third marathon.
We caught up with Lorna to talk cycling, challenges, and inspiring women.
Women's cycling has experienced unprecedented growth over the past few years but how did you first get in to cycling?
Women's cycling has seen huge growth which is fantastic but funnily enough, I owe my start in the sport to the boys. I would meet them in the pub after they'd been for a ride, brimming with banter and endorphins as if they'd been on an epic adventure. Not wanting to miss out on the fun I asked their advice on how to get into road cycling and bought an entry-level road bike through the Cycle to Work scheme.
Can you remember your first bike – what was special about it?
There seemed to be a trend a few years ago in the woman-specific Specialized Dolce, it seemed to be the recommendation of choice for beginner female road cyclists. Mine cost around £500 and at the time I thought I was spending mega bucks – that's before I knew about carbon! My Dolce and I had a unique relationship that ranged from sheer frustration towards each other to pure love. That heavy frame and clunky cassette was a fast way to develop strength and now I still ride her for commuting and trips around town. Your first road bike is very special and I still treat mine with the upmost respect.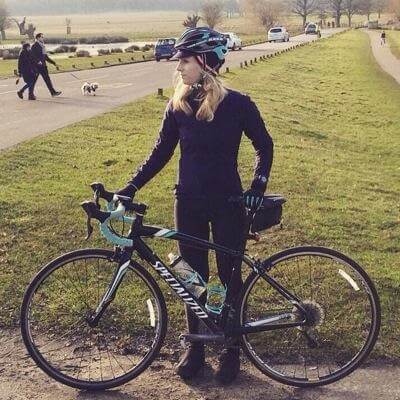 What would be your key advice for women wanting to get in to cycling for the first time?
Persevere. Road cycling is uncomfortable at first and there is quite a lot to take in with all the different equipment. Even getting used to cleats takes some practice but if you keep it up, it's incredible how your bike will start to feel like it is part of you and once you reach this point, you'll work out why everyone raves about it.
You've made your passion into a career, any tips for striking the perfect work/life balance?
This idea of work/life balance really interests me because this was the motivation behind leaving my secure full time job in London to start my own business in the cycling industry. The nine to five model didn't suit me at all and as a creative I find that cycling regularly unlocks a lot of ideas in my head that weren't coming out on my tube commute. I made some fairly drastic changes to restore the balance but it's also about the small changes in routine that can make a difference. It's good to do an audit on how you are using your time and how much you are spending on yourself.
What's your next big challenge?
I've got a couple of things in the diary at the moment but my main focus so far is training for the Rapha Manchester to London ride – 220 miles in one day.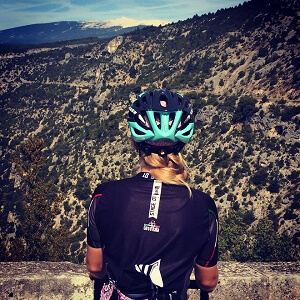 You yourself are an inspiration to many women but who is your heroine?
That's wonderful to hear. I draw my inspiration from so many women and men too! A lot of them are actually the women I ride with on a weekly basis, they are the girls that motivate me to get out of bed at 5:45am for morning laps. In terms of a heroine with a higher profile I would say Tiffany Cromwell, who although a pro-cyclist, also really seems to enjoy the simple pleasures of cycling too. I think that's important.
Do you feel you've faced any barriers as a woman in achieving your goals and how have you overcome them?
There have been a few isolated cases where I've been at the end some fairly old-fashioned patriarchal opinions but I owe a lot to my mum who was a business woman in the eighties and who worked hard to scale the ladder. She never acknowledged those that said she couldn't do something and I think for that reason and living in a more equal age for women I have adopted the same approach. That said, I am still conscious that we still have a way to go.
As founder of Queen of the Mile, are you doing anything special to celebrate International Womens Day?
To mark IWD 2016 I am publishing a fantastic interview with Joyce Brereton, the founder of a women's lifestyle brand, As Bold As, who has launched her business (and is still cycling to work) despite being six months pregnant.
You can read more on Lorna's website: Queen of the Mile.