Designing and Developing the only Gold Sold Secure Wearable Bike Locks
Just as you may compare yourself against other cyclists, we're regularly benchmarking ourselves against the very latest bike security. As the original wearable bike lock brand, we are proud to still produce the most secure, most convenient, and widest range of wearable locks. We strive to offer the perfect balance of practicality and security and Hiplok is the only company to offer a Gold Sold Secure rated wearable bike lock. We're aware that other brands may claim this rating also, however we are the only brand to actually pass the test and hold this rating.
This year, we celebrate a decade of Hiplok, which started with our founders, Ben Smith and John Abrahams, combining their product design skills with their passion for all things bike related. With Ben and John still designing and developing all Hiplok products today, the passion and ingenuity continues in every lock we produce today.
From creating the ever popular Hiplok Original to expanding our range of D locks, secure bike storage, cable locks and security ties, we continue to innovate. We know that as the cycling world develops, as well as the tools and techniques of thieves, we need to be one step ahead of the game.
So let's explore the Sold Secure rating.
If you are serious about protecting your bike, considering Sold Secure rated locks and anchors gives you the confidence that you are using the highest level of security available. We've included some info below on what you need to know about Sold Secure bike locks, and why we think Hiplok should be your first choice.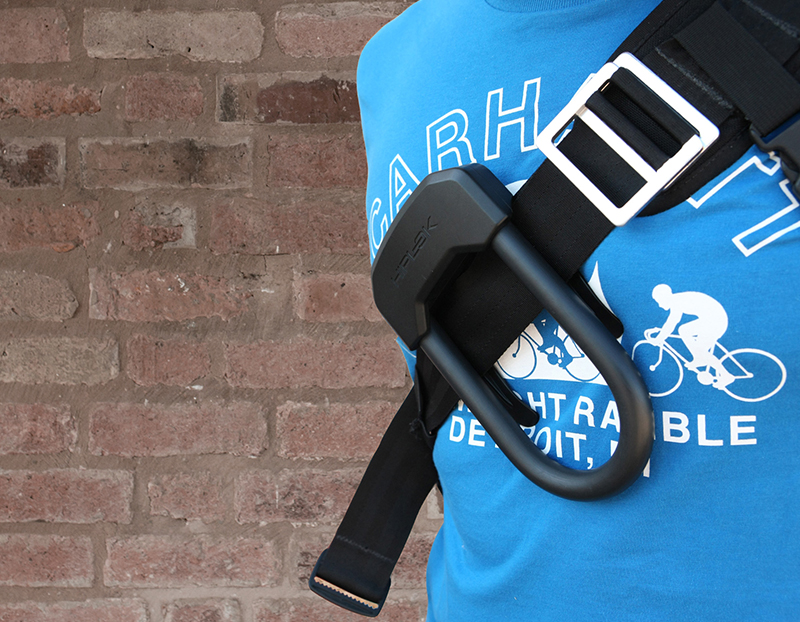 What is Gold Sold Secure, and Why Does it Matter?
Sold Secure is a UK testing house that uses an array of different tests to replicate how a thief is likely to attack a lock. Using information from the police and insurers about the tools techniques used by criminals, the testing looks at how long a lock can withstand an attack and with what tools, with ratings then being given as Bronze, Silver, Gold and then the newly launched Diamond rating.
As an independent non-profit organisation, Sold Secure ratings are respected worldwide. In fact, some insurers respect their ratings to such a degree that they will even write into their policies that you have to have a Sold Secure rated lock to qualify for insurance. After years of testing, Sold Secure are experts and have deep knowledge and experience trying to break locks, which is why the Sold Secure rating is the truest way to compare the security of locks and understand how 'good' they are at preventing theft.
Which Hiplok Wearable Bike Locks have the Sold Secure Gold Rating?
Of course, we all want to keep our bikes safe, but the choice of lock goes beyond just a rating – it's about finding the right lock for your bike and for how you use your lock on a practical level. As such, we have worked hard to create a range that fits a wide array of people, bikes and budgets. Our wearable locks are very popular for combining practicality and security and we are proud to make the only Sold Secure Gold Rated wearable locks:
Hiplok Gold – wearable chain lock offering maximum bike security
Hiplok DX – a wearable, maximum security D lock
Hiplok Gold – wearable chain lock for convenient bike security
With a chain thickness of 10mm, the Hiplok Gold has a shackle diameter of 12mm and comes with a 10-year warranty. When the Hiplok Gold isn't locking your bike keeping bike thieves at bay, it's patented adjustable belt-like fastening means it can be worn around the body without being locked to you. This provides a super easy way to carry a tough chain lock. With a length of 85cm, the Hiplok Gold provides more locking options than a D lock and is a popular choice for e-bikes.
Previous buyers say:
"The visual deterrent is profound"
"Heavy duty"
"Great locking system and comfortable to wear on a ride"
"Easy to use but top quality"
Hiplok DX – wearable, highly secure D Lock
Rated "Best Overall Bike Lock 2021" by the experts at Gear Junkie, Hiplok DX is a double deadlock D Lock for maximum security. The 14mm hardened steel shackle is made of premium materials to give you that worry-free experience. The DX is surprisingly lightweight at just 1.1kg, but again offers Gold Sold Secure bike lock security. Our patented CLIP + RIDE system means you can clip it onto bags and belt straps, providing a super convenient way to carry this award-winning lock.
Previous buyers say:
"Wearable. Incredibly secure and convenient"
"Great lock, well thought out and beautifully made"
"Five stars"
"Worth the investment"