Hiplok bike locks have been tried, tested and proven by Deliveroo cyclists.
For those of you in hibernation for the past 18 months, Deliveroo is the two-wheeled food delivery service of choice. With over 15,000 riders on their UK fleet delivering fresh food from local restaurants to hungry foodies in 100 towns and cities nationwide each day, Deliveroo has redefined at home (or office!) dining. Now you can order your favourite food from your favourite local restaurants for quick delivery wherever and whenever you want. And the phenomenon shows no sign of slowing with the Kangeroo logo, seen throughout the UK, popping up in other European cities – case in point on our recent visit to Berlin.

At Hiplok, as cyclists as well as food lovers, we are big supporters of such environmentally friendly food delivery but sadly, bike theft is becoming an increasing issue for Deliveroo. So when the Roo Team contacted Hiplok about working together, we were excited to help.
Deliveroo riders can cycle an average of 25-35 miles each session* so what better way to test Hiplok's range of secure wearable bike locks. We gave the Deliveroo teams in Edinburgh and London some of our latest locks and asked them to ride with them on a daily basis.
We're pleased but not surprised to say that the feedback was very positive. In particular, the Hiplok LITE proved extremely popular with cyclists.
"Given the product is unique, simple to use and wear, it obviously stands apart from other locks and therefore makes it an attractive proposition." commented Paul Spence, Deliveroo Operations Manager.
The combination of lightweight wearable practicality yet strong SOLD SECURE rated hardened steel protection for your bike, clearly proved popular with our daily riders.
Of course, we would always recommend using the strongest lock possible and so it's no surprise that the Hiplok DX was also a favourite of our testers. As Hiplok's GOLD SOLD SECURE rated D-lock, with CLIP + RIDE easy carry system, it combines maximum strength with ultimate practicality. As Paul added "The Hiplok DX also proved popular with our scooter riders."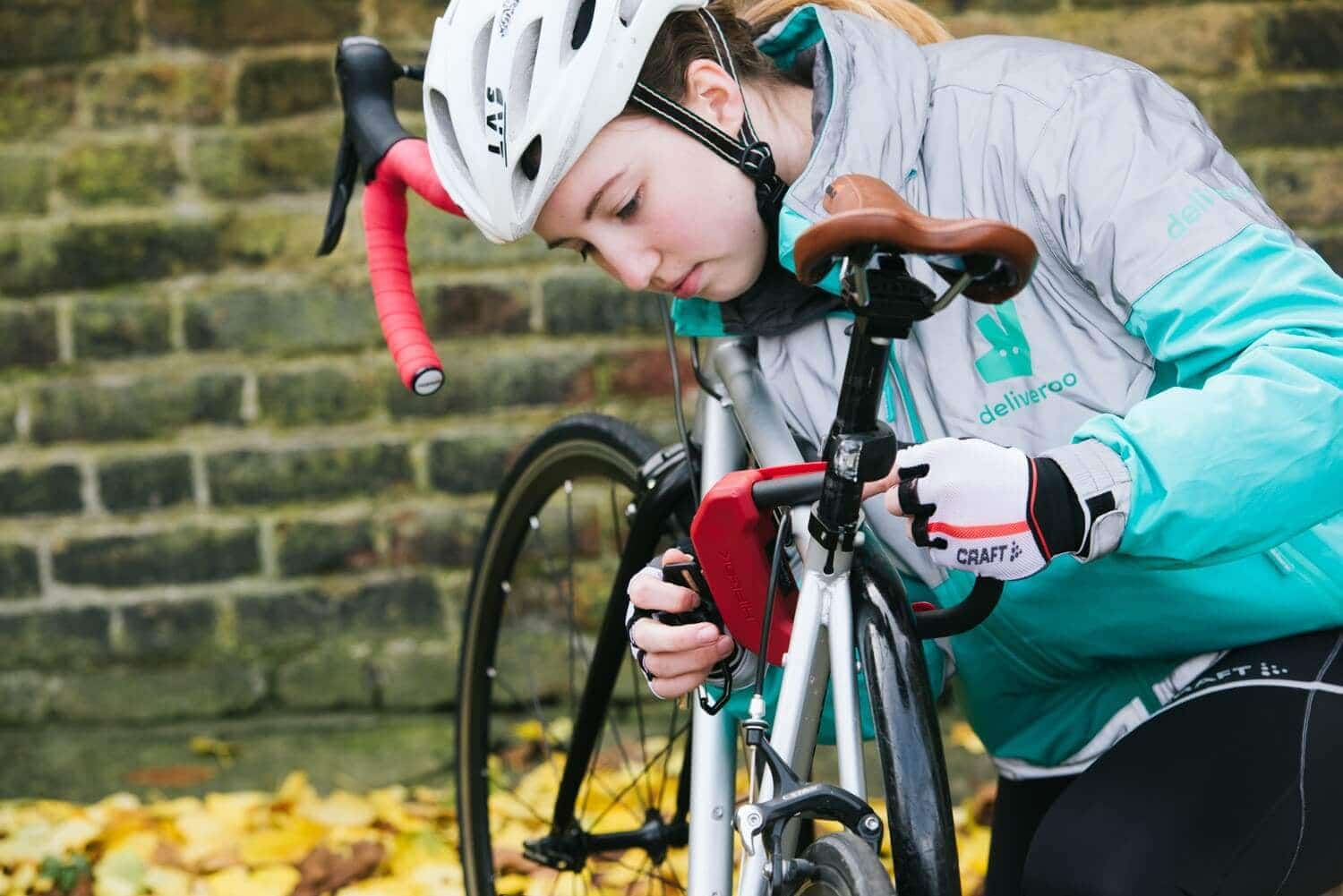 "We're delighted with the results of the Deliveroo testing program, it's highlighted the real world practicality and security of our products. We are excited to be continuing our relationship with Deliveroo to secure their rides and ensure this fantastic service continues to deliver." Ben Smith, Hiplok co-founder.
*data from Bike Radar "A Day in the life of a Deliveroo bike rider" http://www.bikeradar.com/road/gear/article/a-day-in-the-life-of-a-deliveroo-rider-48372/