AIRLOK is the world's first maximum security bike storage hanger, proven and rated to DIAMOND Sold Secure bike standard. Behind the beautifully elegant design lies a seriously strong piece of kit. And how do we know this? Because we've tested it, the world's leading security bodies have tested it and our riders have tested it to the extreme.
We thought we'd show you some of this testing in action and demonstrate why AIRLOK carries a Maximum Security and is the only Diamond Sold Secure bike storage hanger in the world.
The Toughest Kit
Every component of AIRLOK has been designed with function and form in mind. From the strongest security bolts, to the premium hardened steel triangular frame and the highest quality coded keys (you can safely register your keys for future replacements should you lose them), each piece has been developed and tested to provide the most secure bike storage. You can see how the secure pieces stack up in this exploded view.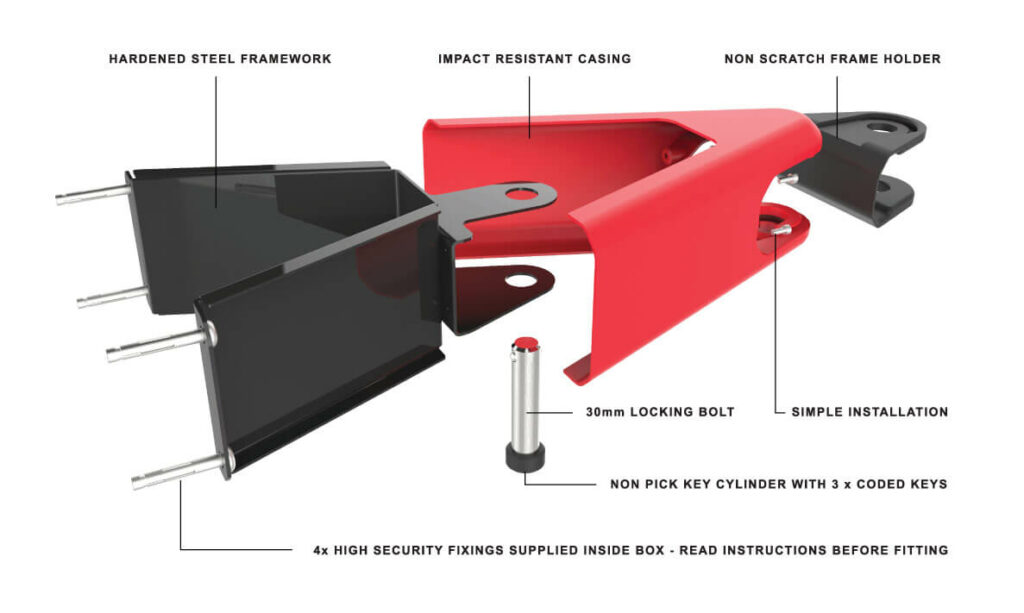 In House Development
Before launching a product that we know cyclists can completely trust in, we tested it to the limit. At each stage of development, in use testing fueled design and development amends. Before launch, AIRLOK underwent a series of real world attack tests including sustained tool attacks and weight leverage thrust. We even took down a wall to prove its strength as you will see in our destruction testing video.
Independent Testing
AIRLOK is the first bike hanger to be rated GOLD by Sold Secure. This means that AIRLOK  survived for at least 5 minutes against the top list of tools including the largest bolt croppers and TCT Hacksaws. And it doesn't end there. ART, one of Europe's most renowned security testing bodies, has created a new category for AIRLOK as they haven't tested a product like our secure bike storage hanger before. The ART tests are extreme and of course AIRLOK resisted all attacks. See for yourself in this behind the scenes footage from ART's testing facility in the Netherlands.
REAL WORLD Testing
It doesn't end with delivered accredited product. We constantly gather feedback from the real world and there is no better test than from our customers. You will see from our social media channels the great feedback on AIRLOK from customers. This video from Drop & Roll rider and Hiplok athlete, Duncan Shaw, shows the toughest real world test yet.